HIGHLIGHT: 39 juvenile black marlin on Allure at Fraser Island.
Reports from yesterday and more catch ups – I still have more catch ups to come – stay tuned!
Just a quick follow up from Fraser… Allure tagged 39 (juvenile) black marlin in just over 5 hours of fishing at Fraser Island yesterday.  This could well be the new top tag world record for baby blacks.  Well done to the guys on board – Luke Simpson, Dylan Simpson and Mark Grenda. Amazing effort!
Back up at Cairns:
Capt. Tim Dean's Calypso has just finished one trip and onto another with a great big fish week on the reef as well.  Photo above is from the drone footage from Hughes family from Texas who caught 10 fish in 5 days including two that Tim put as 'giants'.  Can't wait to see the footage, should be spectacular based on the pic!
Tim was out again on Friday for the first day of a new trip with two more including one that Tim put at over the mark and I believe they added another big one yesterday as well.
Another of the Assegai stable's Megumi is up off the top of the Ribbons with owner Laurie Smith on board as well as blog regular Grant Thomson (Cjig). Grant reports some awesome fishing for them over the past four days with several big fish including ones they put at 1150, 950, 950 and 800lbs!  Grant says that Laurie was tired after the battle with the big fish so Capt. Matty Sander was thrown in the chair for the 950 while Grant drove!
Capt. Brett Goetze's Amokura likewise on the first day of a new trip with another cracker day. Brett reports they released another monster over 1000lb for angler Terry then followed up with a 500lb for his wife Betty in the afternoon.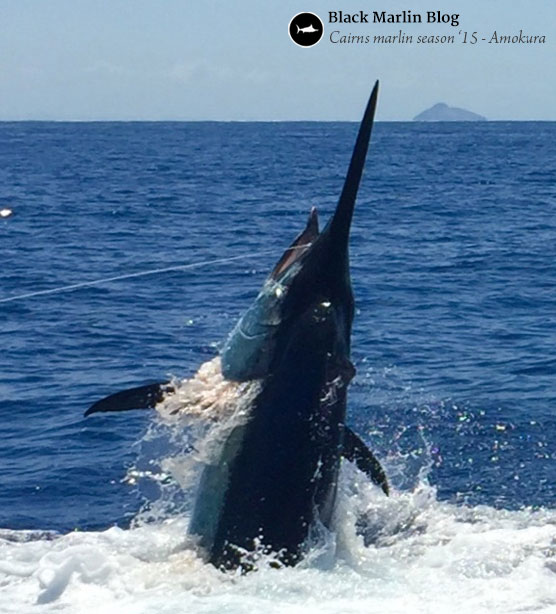 Capt. Tim Richardson's Tradition went two from 4 including another nice fish at 850lbs.
In the Port Douglas Marlin Challenge (not sure of current standings sorry!), Capt. Laurie Wright put Think Big's Sharon Poulter onto a real nice one on Day 3 to match Paul's big one from Day 1 that Laurie put at 950lb.  Paul also caught two smaller fish around 250lb but they self disqualified one as it went under the boat and round a rudder before a tag shot could be placed. But all in all a great day!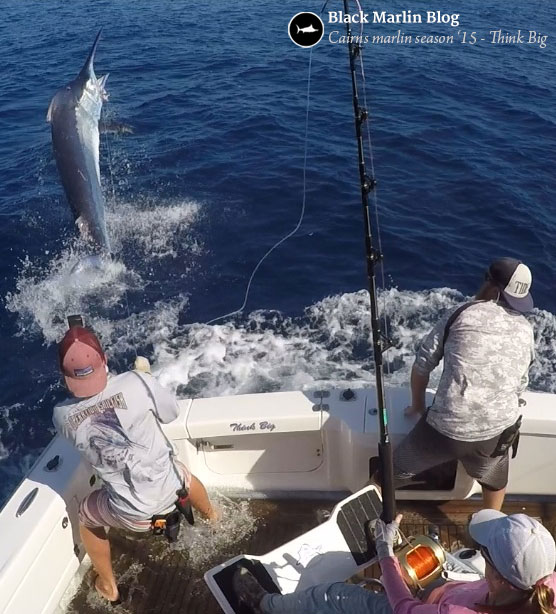 On KEKOA we finished our trip with Jada, Dan and Chip with two more for Jada and into Cairns for a day off before heading out again Monday.  Capt. Dean Beach's Onsite added another to his trip talley as well.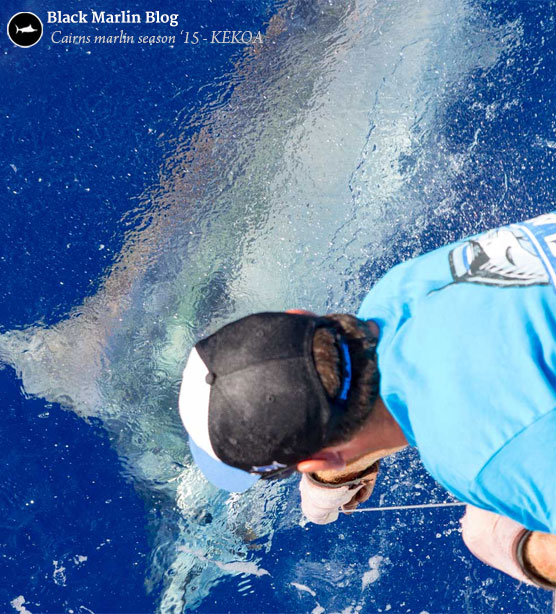 Capt. Corey Hard's Askari is also enjoying a few days off in town after finishing their last 5 day trip with 7 fish. They went from 2 on the 1st day then 3 from 3 on the 2nd day. 2from 3 the 3rd day. 0 from 2 on the 4th day and 0 from3 on the 5th day. Out of the 7 fish they caught 1 was around the 700-750 mark and 2 where mid rangers the smallest of the others was 250. Corey says it was great fishing with great fun great people.
Big catch up report from Capt. Darren "Biggles" Haydon's Bounty Hunterr. Biggs reports that for them the slow like everyone else up until 10 days ago.  That week they caught 5 with the biggest 850lbs.
And then last week was another cracker with 13 released including 3 at 900 plus one at 800 and one at 700.  Biggs also reports that while they had slow fishing over the tournament only catching 2 small ones, the week before that with Parke they caught 7 in 7 days to 500lbs.
Catch up report from local lad Dylan Brier-Mills on Wednesday who headed out with Jason Preece on board the trailer boat Hammer with two mates onboard that have never really fished. They missed one bite early. Later in the day they saw some birds out wide so they trolled over and hooked up almost straight away. An hour on 37kg standup later and they had the fish estimated at 900lbs on the leader (pic below).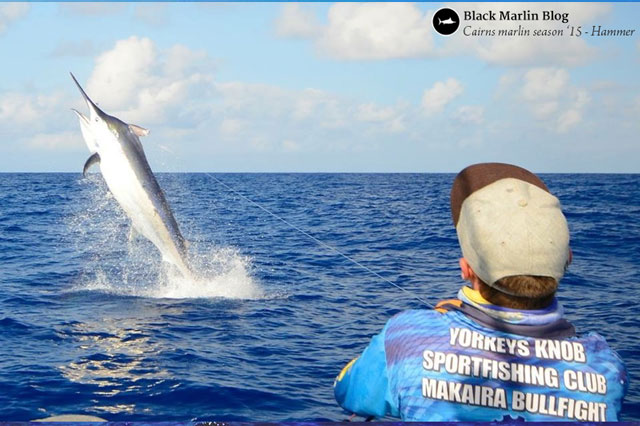 And David Crocos reports after a few unsuccessful trips off Cairns and the Ribbons this year he finally got another one.  Not the monster he was hoping but David says he's still grinning anyway – and he should being solo in a trailer boat. David said he tried to get a crew together this year but for some reason people aren't too keen to do the hard miles in a trailer boat ;-)  He was wishing he was an octopus needing the extra hands!