More big fish on the reef!
Capt. Daniel Carlson's Little Audrey has capped off a big fish trip with a fish yesterday at 1148lbs. More to come!
Word via Conor on deck that Capt. Chris "Sharky" Miles on Levante has had a good last few days with 5 fish up to 800lbs.  And Capt. Brett Goetze's Amokura also added to their big fish trip with another fish Brett put at 900lbs for angler Terry.  Capt. Tim Dean's Calypso did indeed catch another big fish on Saturday as I mentioned yesterday, one of two he added to the tally.  Fresh home from their trip with Capt. Tim last week, D.A. Hughes has put together the drone footage from their big fish believed to be the first 'grander' caught on drone :-) among beautiful reef shots and other nice fish on their trip. Awesome!
Another back on the reef, Rod Hawkins and his boat C'mon Aussie. Rod tells me they caught a nice one yesterday that Capt. Damon Gruzdev put at 850lbs (photo).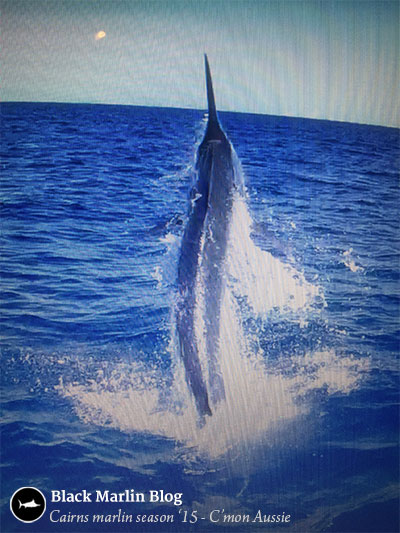 Any results from Port Douglas?
Little blacks and big blues at Fraser
I had a bit more of an update from Luke Simpson on Allure and their amazing 39 black marlin .  Luke tells me that his father Glenn Simpson was also on the boat driving. A
Over the first two days the crew recorded 5 blues – 2 at 300lbs, 1 at 450lbs, 1 at 700lbs and one at around 900lbs!
Then to follow up the next day with the 39 black marlin – double and triple headers galore – amazing fishing. Some pics of the action at top and below.