Another big day on the reef and as the great fishing continues, we can only shake our heads at how poorly we though the season outcome several weeks ago when the cold water was pushing in on the edge. This week the water is a comfortable 26 degrees and the weather is cooperating nicely as well.
We saw Capt. Haydon Bell's Kanahoee release another big fish that Haydon put at well over the mark after missing the bite of a big one earlier in the day.  A shot that I took of the fish jumping away from the boat at top.
Nearby, on Capt. Luke Fallon's KEKOA, we followed up on the big day the day before with another big workout for the Hass. A fight of almost 2 hours saw him releasing his 6th grander black marlin in his years of fishing with Luke. Again the circle hook firmly ensconced in the corner of the jaw made for a tough fight and a very healthy release. I got some great photos of the fish beside the boat.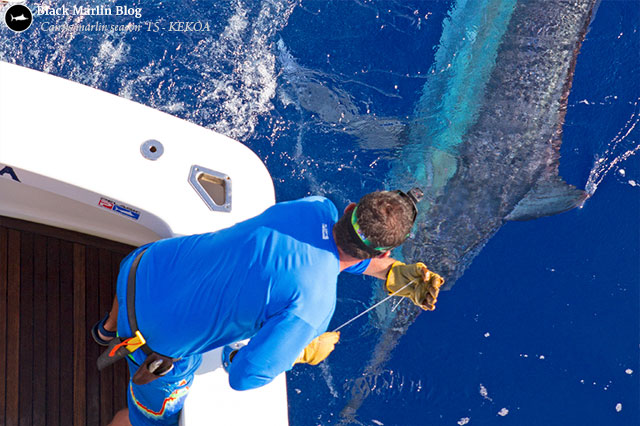 We also put Trish onto her first black marlin, a small one to start with and had another couple of small fish on for her as well.
Up the top, Capt. Tim Richardson's Tradition added another two fishing including one that he put at 750lbs.
Correction from the day before, Capt. Brett Goetze's Amokura added two more big fish at 800 and 900lbs. Brett says they added another three yesterday (from 5), all smaller fish, but pulled the hooks on a nice one.
And catch up photo from the day before of Capt. Dean Beech (Onsite) fish for Garry Hammes that Deano put at 1050lbs.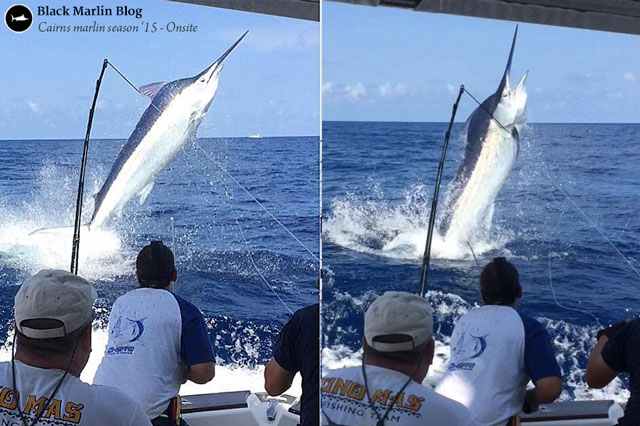 Another catch up report this time from Bruce Bartlett who is back home now after his annual trip with Bob Shaeffer fishing with Capt. Darren "Biggles" Haydon on Bounty Hunter.  How's this for some real nice fishing?  Bruce says that in the 7 days they caught 2 over 950 lbs, 1 over 900, 1 over 800, 1 over 650
and 8 under 350 lbs – 13 in total and Bruce said their conversion rate was also unreal only missing 7 bites mostly from wrigglers trying to eat the big bait.  Some photos of their fish below (click to start the scroll through.)
Capt. Matty Sander's Megumi with owner Laurie Smith headed south back towards Cairns. Fishing on board, Grant Thomson tells me they left the fish biting at the top, jumped one off at Number 8, jumped another off at Number 2, and then released a 700lb-er at Opal Ridge.  Here's one of their great action shots from the past week.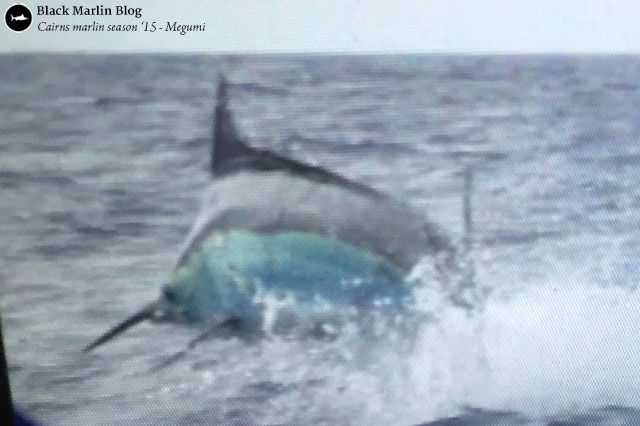 I hear there's more good fishing down to the south too but the reef grapevine hasn't shared any details. Stay tuned!