It's definitely been a season where one boat at a time is having (quite literally) ALL the good fishing in a day, and yesterday was the day for the team on Capt. Adam Jordan's Iona 2.  Adam put his anglers onto 6 from 9 black marlin. Above a shot of a fish caught yesterday by Scott Baker that Adam put at 950lb. They also caught fish at 850lb, 750lb, 350lb, & 200lb. This puts Iona at 55 from 72 in 42 days of fishing for the season.
Capt. Steve Ahler's Hellraiser also went three from three smaller fish.
On Capt. Luke Fallon's KEKOA we had an entertaining day with this one that Luke put at 850lbs for Scotty (photo below). We also dropped a second fish that had the big bite on the big bait after a 'shower' of dolphin fish greyhounding towards the boat gave us an indication that something with a pointy nose might be chasing them!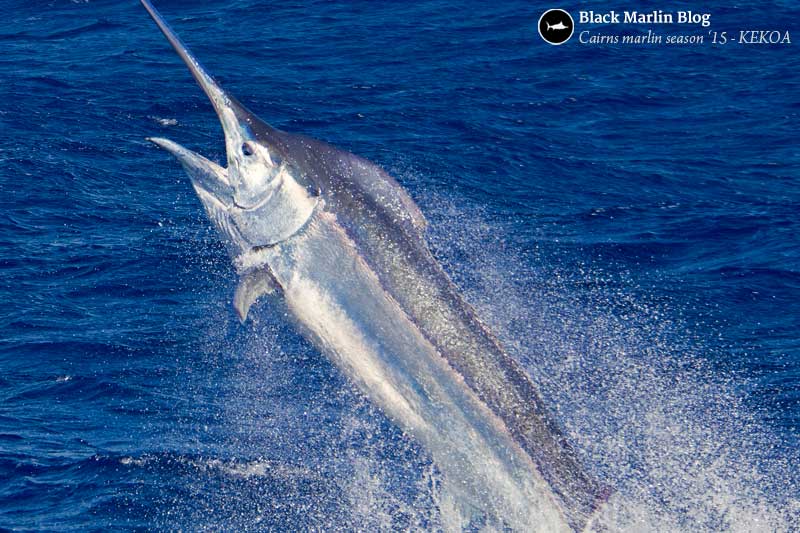 Capt. Tom Francis' Ultimate Lady spent 3 hours fighting a fish before the line parted and also caught a smaller model.  And Capt. Ross Finlayson's Top Shot also started a new trip with a smaller model while Capt. Simon Carosi's Reel Chase did the same nearby.
And a couple of catch up reports: Capt. Brad Craft's Castille III finished up their trip with Frank on Wednesday with a fish that Brad put at 900lbs just before lines in.
Wayno sent me a report from Hull Yeah who put Melissa Wheeler onto her first heavy tackle fish in the 250lb range as well as another for Angela Jones which they put at 650lbs.  Wayno reports both were caught wide of Opal Ridge on lures.  They also had another three fish  on baits on the ridge down to the Bank but unfortunately they didn't stay stuck!
PNG Tropicana Billfish Tournament
Australian Angling Steve Philp is in PNG fishing the Tropicana Billfish Tournament hosted by the New Britain GFC out of Rabaul. They have a number of sat tags to deploy and are also competing in the Great Marlin Race for 2015. Steve says that the fishing has been red hot. In the four days thus far they have tagged 9 fish and deployed 4 satellite tags and lost that many again. They've had double and even quad hookups on blue marlin! Stay tuned for more.