More reports coming in from the great summer fishing off SEQ, including word overnight of a 720lb black on 37kg standup off Cape Moreton after a 8+ hour fight (updated – read to bottom for the full details of this fish).
Brendan Van Ras fished Saturday bringing Finatic home to the Gold Coast (from the Sunshine Coast), straight lining down through the Moreton and Lookout Canyons.  Their morning started with a 'mad, free jumping' blue marlin charging the boat in a series of jumps, almost taking out the bow on its way past.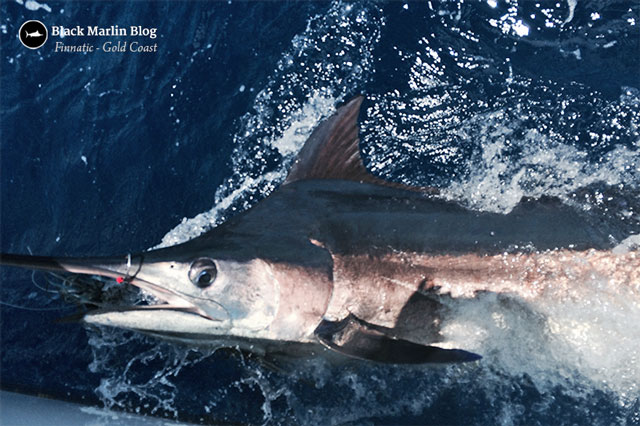 Approaching Lookout Canyons they tagged their first blue, a small, but fat, 120kg fish to angler Darryl Lund. Not long after they tagged a second blue marlin around 140kg for angler Karen Attree – her first heavy tackle billfish. They pulled lines in at 11:30am with figures of 2-2-2 and enjoyed the steam home!
Also returning to the Gold Coast this morning Glanville Heydenrich's charge, Happy Hooker after fishing off Cairns. Going past Fraser yesterday they recorded 5 from 8 black marlin, missing a nice one at the end of the day yesterday. Glanville said there were also plenty dollies and a few decent wahoo around as well!
And details of the big black off Moreton via Conor Lynch who was one of those who went out to lend a hand late in the fight. Conors tells me that Dan (Daniel Smith) and Mal (Mal Keag) were 2 up fishing yesterday in an 8.5m Sertees off the Cape when they hooked the fish at 10am (on 37kg standup tackle). Conor got the phone call from Dan at 2:30 saying that he had hooked a big one and was still fighting.  Conor said that he and Mark Bird would come out and give a hand if needed and while I think that Dan didn't know they were serious, they hitched the boat, drove to Manly and arrived on the scene as the boys had been dragged by the fish all the way to Lookout and were fishing in just 38m of water!!
Conor said they arrived at about 6:45pm and Conor did a short swim to the boat and threw the flying gaffs over and proceeded to fight the fish for another hour or so to get her. Dan was quite exhausted by then but glad to see the help I'm sure! They all came in round 9:45pm at Manly and weighed the fish in at 720lbs!
A good story of mates helping mates out!
Thanks Conor and well done to all.