Some reports from all over, over the 4 day Aussie Day 'long' weekend :-) Hope everyone had a great day!
Gold Coast
Capt. Ross McCubbin on Lucky Strike went 2-2-1 on Monday with mate David Wright getting his first blue at approx 160kg. Ross said the fishing was steady with boats getting few shots each. Capt. Craig "Sparra" Denhim's Hot Shot likewise on Monday went 2 for 0 on blues, 1 for 0 blacks, 1 for 1 stripes for a chance at the full spectrum of the GC slam.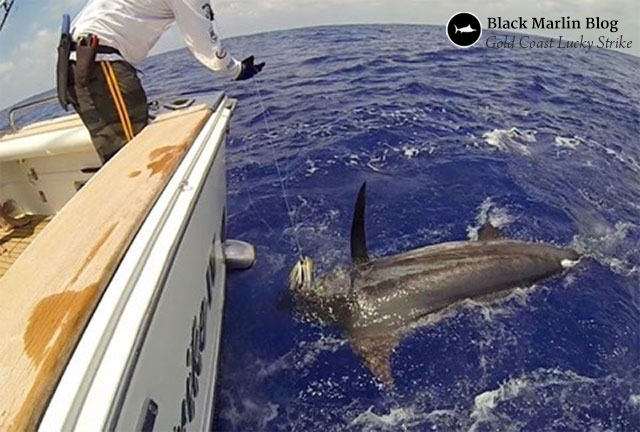 Simon Herbert also had a good day on the Gold Coast yesterday. Fishing in his boat SASSA1 (7.4m Trophy Pro) with Capt Herbie in charge went 2-2-2 on a blue marlin and this nice yellowfin (below) which went 70kg. They were fishing east of the sea way in 300m of water and 28 degree water.  What a cracking yellowfin!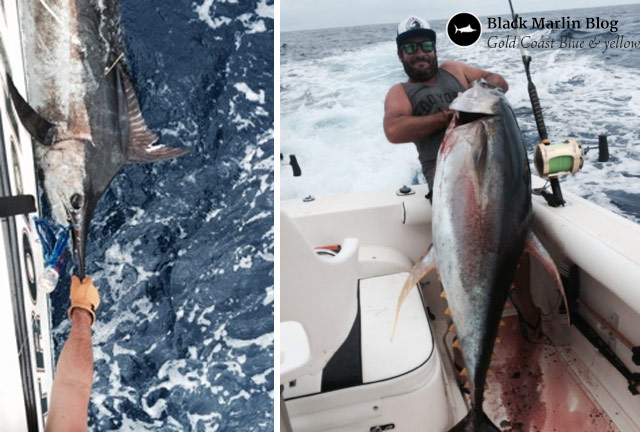 Coffs Harbour
Rob Lang on Black N Blue reports that the fishing has slowed somewhat off Coffs but there is still a few little black marlin around, mainly biting on the tide change. On Black N Blue on Monday they went 3-2-2 and then followed up yesterday with a 3-3-2. Rob says there are also quite a few dolphinfish, wahoo and small yellowfin around as well.
Port Stephens
Summer 2015/16 the summer of the sails? They continue to show up in more unsual places down the coast including onto Port Stephens.  Jason Smith tells me that his daughter Abbey was fishing for her first billfish on Newcastle & Port Stephens Game Club boat RACKEM UP, skippered by her dad on the Australia Day weekend, and had a double hookup on sailfish, landing both therefore Abbey getting her first billfish.
There were 3 firsts for anglers onboard including Abbeys first billfish, with Terry Lilliss also getting a first sailfish and also Zac Wilson scoring his first billfish, a black marlin.
Photo at top!
Bill Heyward Tourney
Luke Maddern from MADDNESS, a 40 ft Caribbean from Botany Bay GFC tells me they notched up the Champion Boat T&R with 3 marlin on 15kg. They were closely followed by Compton from Lake Macquarie and 3rd place Gale Force (SGFC) and 4th CT from Botany Bay GFC.
Luke said that it was a close competition in Saturday's very trying conditions!
Full results were:
2016 29th BHMT Botany Bay GFC Tournament results.
Heaviest OGF Kane Clarke 16kg MahiMahi Profishent
Champion Junior Angler T&R AJ Qahoush Maddness
Champion Junior Angle Cap Spencer Hoye Haulin
Champion Lady Angler T&R Zoe Rontziokos Finatic
Champion Lady Sian Mowat Eid Finaddict
Bill Heyward Memorial Trophy Heaviest Marlin Nadim Eid Lockout
Most sharks Tagged Carnage
Hightest point score Boat T&R OGF Avalon
4th Place Boat T&R CT
4th Place boat Cap Haulin
3rd Place boat T&R Gale Force
3rd Place boat Cap Real Busy
2nd Place boat T&R Compton
2nd Place boat Cap Finaddict
Champion boat T&R Maddness
Champion boat Cap Carnage
Champion Club Cap Broken Bay GFC
Champion Club T&R Botany Bay GFC