A report from Nigel Rushmore in the leadup to the Garmin-Sylvania Marina Shootout. Nigel reports the fishing is certainly heating up with more reports that the blacks have arrived in numbers with boats tagging multiple fish each day.
Capt. Daniel Carlson's Little Audrey was one notching up big numbers yesterday with 8 from 10 all black marlin in the 20kg to 60kg range. Dan said that all the fish were caught on 10kg inshore out of Port Stephens.
With just a couple of short weeks now until Port's tourney season kicks into full gear, Nigel reports an influx of entries for the shootout already (105 entries so far!) and they are expecting in excess of 110 with the huge cash and other prizes on offer – $140,000 in cash and prizes which include $12,500 Heaviest Shark over 350kg, $12,500 Heaviest Marlin over 150kg, $12,500 Champion Boat T&R and $5,000 Champion Boat T&R Under 8 meters. Entries are still open see the tournament calendar for more details.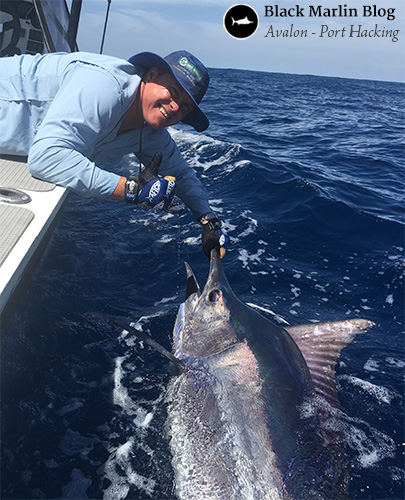 Following up from yesterday's report again with Capt. Scotty Thorington's Freedom on their last day before relocating to Port themselves with 4 blacks at 40, 20, 20 and 18 kg.
And another that I mentioned yesterday with a pic today at top, Port Hacking GFC's Avalon.  Skipper Bruce Rayment reports he was fishing 2up with regular crew Chris Wienholt who was the angler.  The fish was their first bBlack marlin for the season estimated around 70kg in 400fa SE of Port Hacking on Sunday. The fish took a lumo lure and was tagged boatside after a 20 minute fight.