Some tournament updates hot off the water from yesterday.
SEQ lady anglers were treated to another fun day yesterday with the annual MGFC Billfish Babes comp.
Final stats from Club Captain Jamie Behrens who tells me they had (overall) 62 strikes, 43 hook ups, resulting in 28 fish of which 4 were black marlin, 1 sailfish, 4 wahoo, 2 mahi mahi, 7 mac tuna, 10 stripe tuna.
Senior Babe went to Sarah Postan (Hook in)
Other Species to Christie Thomson.
Champion Boat Over 7m– Hook in.
Champion Boat Under 7m– Never home.
Best Dressed Boat – Luna.
Champion MGFC Boat– Bangalee.
First Billfish Tagged – Leanne Kalpus.
Calcutta– 1st- Hook in. 2nd- Big Business. 3rd- Bangalee.
Encouragement award – Ashleigh Schipp.
Greenie Award– Marlise Kersnovske.
Best photo/vid – Filthy.
Photo at top of the girls in action on Never Home.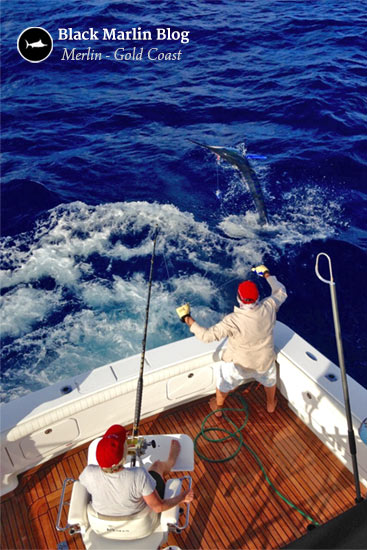 Meanwhile on the Gold Coast, more fishing reports over the past few days including from Capt. Ross McCubbin fishing with Capt. Bobby Jones and Lorraine on Merlin with a striped marlin and blue marlin both for Lorraine on Friday.  Ross said most other boats had a couple of shots too.
Also seeing the fish on Friday was Barco. Jeff tells me they ad a rubber hook day going 4-4-1 on blues catching a 350 lb, pulling the hooks on one in the very large category at the back of the boat and jumping 2 in the medium to large category off.
Jeff said they also got attacked by a pack of stripes at one stage having 4 hooked up and lost in space of about 3 minutes. 4-4-0!  Very frustratingly fun!
Garmin-Sylvania Marina Shootout
With boats recording good numbers the day before the shootout – including 6 for Scotty Thorrington's Freedom and 4 for Rod Finlday's Murrifin, all eyes were on the shootout for the start of he big tournament week(s) at Port Stephens.
Day 1 results are in with boats already fishing Day 2. There were plenty of little blacks around inshore with 44 Tag&Releases for the first day, mostly black marlin with a few stripes, a blue and a sailfish. Only one Capture on the board being a 433kg tiger shark on Victory 2.