The Surfers Paradise GSFC's annual Blue Marlin Bash was held over the weekend. Although the fishing wasn't red hot, there were several caught.
The winners were the team on Reel Teaser took out Team Under 7 mtrs and Champion Boat Overall with two blue marlin.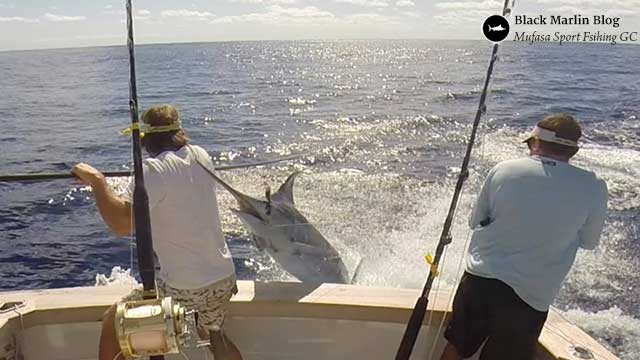 Mufusa took out Champion Boat Over 7 mtrs with a blue marlin that almost tagged a crew member (still shot of a very close call above!).
Outer Limits won Heaviest Other Gamefish with young Jordan Butler the Champion Junior, also fishing on Outer Limits.
More from Port
Joel Abercrombie tells he's been enjoying some of the hot fishing off Port Stephens! Last weekend they went 4-4-3 on blue marlin north of the car park fishing on Black Ice with Gary Hyland. On Saturday they also went 2 from 2 on black marlin (2.5 short length was the biggest ) at the car park after spending most of the day over the edge in search of blues. Joel also tell me that on Sunday local boat DT's went 5 from 6 in the same area!