Catch up report from Capt. Corey Hard's Askari who finished a 7 day trip with 6 and a sail fish for the 7 days.  Corey said they had a bad case of rubber hooks and missed 3 big ones but still managed to catch a big one, a wild mid ranger and the others up to 300lbd.
Yesterday slower overall with the only report I received from Capt. Tim Richardson's Tradition who tells me 14 year old Kaleb caught his first black yesterday, a fun small one.  And another catch up report from Tradition with Duarte publishing the second trip report from his time out here this season on his blog now as well. Well worth the read again!
Catch up photo at top from Capt. Darren "Biggles" Haydon's Bounty Hunter with a nice one for JP during the season.
Sunshine Coast
More blues around off the Sunshine Coast over the weekend in good numbers with Mooloolaba GFC Club Captain Jamie Behrens reporting that most boats raised fish on the weekend.  Luna tagged 2 on Saturday with Peter Ayoub and Jack Kruger (his first) tagging one each while club president Josh Cox snagged his first Blue on Reel Lady as well. There were also good number of fish seen and tagged in the Redcliffe comp (I will try and get a report) and things are looking good for the MGFC Billfish Bash!
And off Fraser, video from photog David Granville of the inshore black marlin from the weekend!

Groote Island Billfish Touranment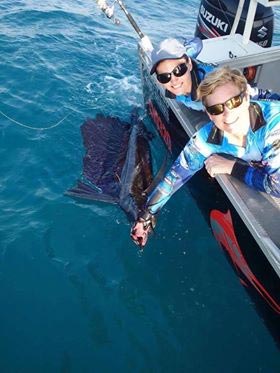 I'm running a day behind on the Groote Island Tournament reports owing to not being able to retrieve messages yesterday morning but Jason tells me that there were quite a few fish raised on Sunday although teams have been having trouble getting the hooks to stick. On Sunday there were 15 raised, 9 hooked, 3 tagged (all sails). Photo left was a fish from day 2 for team "One More Favour" aboard Toxic.