Good numbers around on the southern grounds yesterday with most boats encountering fish.
Capt. Brad Curtis was on the wheel of Calypso again yesterday for two at 500 and 800lb. Unfortunately they lost another big one. Capt. Tim Dean is back in town and back at the wheel again today.
Capt. Brett Goetze's Amokura also released two at 400 and 500lbs. Likewise on Capt. Tim Richardson's Tradition with two but still looking for the big one for Kaleb!
On Capt. Luke Fallon's KEKOA we released one for Glen and unfortunately couldn't hook up on the real big one. And Capt. Ross Finlayson also released one on Top Shot that I captured some shots of nearby (at top).
Plenty more fish around although I didn't receive the reports. Below is a pic I took of Wild Turkey that looks like his fish is keen to join them in the boat also!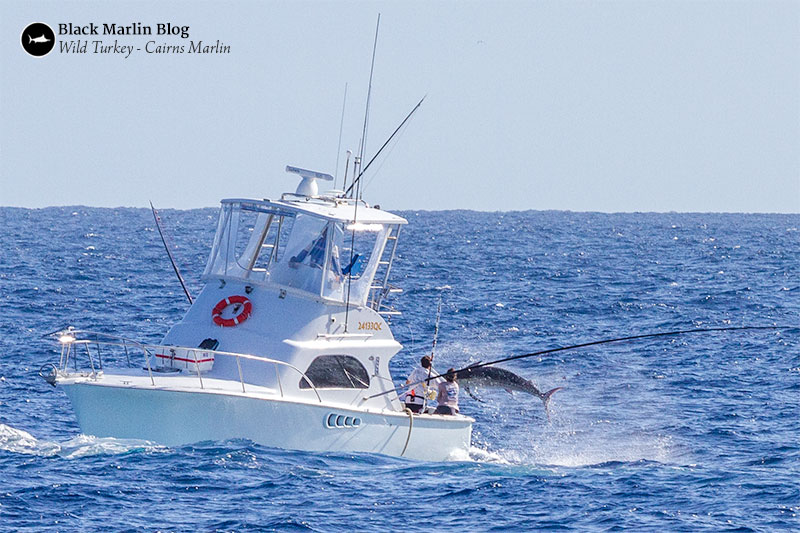 Groote Island
Jason reports it has been very quiet for the last couple of days with only a handful of fish caught going by the skeds. There are not many boats out though being mid week and over half the fleet are still to fish. The weekend will be extremely busy with 25 teams hitting the water on Friday, Saturday, Sunday.
A big fish was lost yesterday after a 1/2hr tussle on light sailfish spec leader. Jason says he'll be heading out in StormTrooper today to try beat the crowd and taking a couple of heavier outfits and bigger baits with them in case one of these larger fish shows up!
2016 Redcliffe All Tackle Tournament
15 boats with 65 anglers registered to take part in the two-day All Tackle tournament. And the heavy tackle fish showed up with a total sked of 80-58-24 that comprised of 23 blue marlin and 1 shortbill spearfish tagged.  There was also a 22kg Mahi Mahi that didn't go line class.
Winners

Deep Blue won the over 7 metre Champion Boat With 5 blue marlin and also took home the Team prize with Andiamo.
Moose won the under 7 metre Champion Boat With 2 blue marlin.
Release took out second overall, with Darryl Boshler taking out the First and Last billsfish tagged and Champion Male Angler.
The Phantom was third overall, with Rene Walker taking home the Champion Female angler prize after tagging 2 blue marlin and 1 shortbill spearfish.
Day one: Started off with a bang, the first sked was 16-14-7, 6 blue Marlin and 1 shortbill spearfish. The fish then dropped off the second sked was 15-11-2 both blue marlin. They finished the day off with the final sked being 9-7-5 all blue marlin.
Day two: After a very clam night on anchor all boats headed out for a 6am start fishing. The morning went off again with the first sked results being 27-20-10 all blue marlin. The final sked of the tournament was 13-6-0.
There were a few double hook ups, Deep Blue managed to tag both blue's on their double hook up. There was also a double hook up on light tackle, unfortunately one got broken off and the other was fought for an hour and half before being lost. At the end of the competition some boats came home lighter after losing many lures and a few kilometers of line.
RPGSFC are getting excited for their premier event the upcoming 2017 Brisbane Marine Redcliffe Australia Day Tournament, briefing on Australia Day 25th Jan and fishing the 28th and 29th.
Thank you very much to Nikki for the report!