A big report today…just when you thought it was over, it pulls you back in! ;-)
Following up from the previous report with some pics at top  and below from Capt. Haydon Bell on Kanahoee who finished up a 3 day trip with 5 marlin to 950lbs+. Haydon took advantage of the good weather to venture out to the Sea Mount. In addition to the 950 which was Sat tagged, they released others at 700, 450, 350 and 150 all on 80 stand up for Tim Dobinson.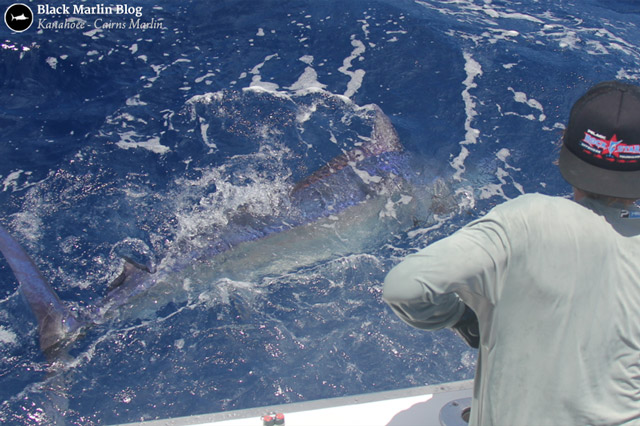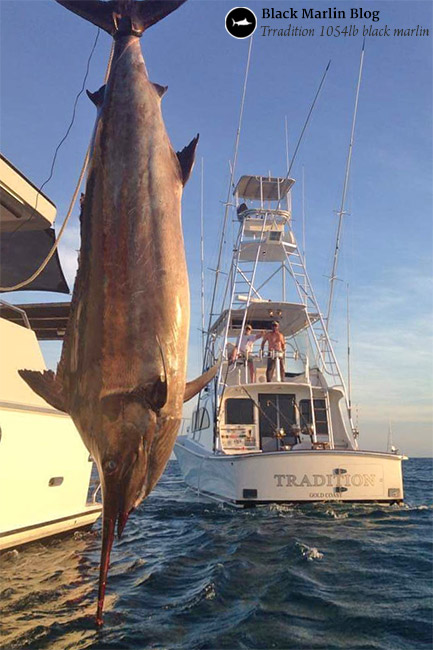 Another great result in the Fraser vicinity with Capt. Tim Richardson's Tradition who has been making his way home after the Cairns season.  They fished Monday for 3 smaller black marlin and spent a nice calm night at Fitzroy Reef lagoon.
Yesterday they headed out to some blue marlin spots from previous trips, but no bites, decided to head inshore a bit closer to Lady Musgrave Island and only went a mile or so in and the right bridge teaser got destroyed by a big black marlin. Tim pulled it away and it got crushed again. He got that one out of the water and she ate the left teaser too and then turned around and knocked out the Pakula lumo sprocket and the just exploded on the Moyes Pipe Bomb.
Tim says the fish only did one jump out back and fought hard. They had the double out of the water 3 times in 90 minutes and then she took them back into the dacron and sounded, unfortunately being tail wrapped. Another 90 minutes later she was planed and struggled to get her in the boat.
Fortunately one of Tim's friends was running a big boat and was at Lady Musgrave for is to weigh the fish on his certified scales at 1054lbs.
Ribbons 2016 Tournament Report
39 Boats, 129 anglers (including 26 from out of town anglers and 9 juniors) competed in this year's Ladies' event with 7 billfish tagged (1 black, 6 sails). An additional 34 gamefish were weighed by the fleet spread from Jenny Louise up to Opal Reef with the billfish tagged at both ends!
It was comparatively slow all round on the game fish front, especially after last year's efforts!
Alyson Bergamo on Wild Turkey weighed in a super bull of a dolphin fish, weighed whole, missed the existing record by 200g, re-weighed gilled and gutted and went 19kg!!!  This fish took out the highest point scoring game fish prize.
Champion junior was 10 year old Ella Leptig fishing on The Edge with her dad Steve, tagging a nice big sail at 10:10 am her first billfish and earning her the award from runner up junior Georgia Bolton on Miss Giddo, who also tagged her first billfish, also a sail.
Champion senior angler was Tanya Ellis on board Four Reel, winning on count back, with Sharon Leptig taking out the runner up senior angler on board Saltaire.  Both tagged a sail each on 10kg, only 25 minutes apart!!
Champion team and crew over 8m went to Saltaire, with Sharon Leptig, Donna Burns and Annalisa Aspden on board.
Champion team and crew 8m and under and champion team overall went to Four Reel, with Sherrie King, Tanya Ellis, Paula Atkinson and Tracey Grant on board.
Of the 7 fish tagged, 5 were first time billfish captures for the girls, super effort!!
Thanks to Sharon for the report. It was a pretty exciting day for Sharon with herself (mother) and daughter both catching nice sails each on different boats on the same day!
Congrats to all the ladies who competed – another great comp!
Pic of Sharon celebrating in her Get Lured prize fish bag below!