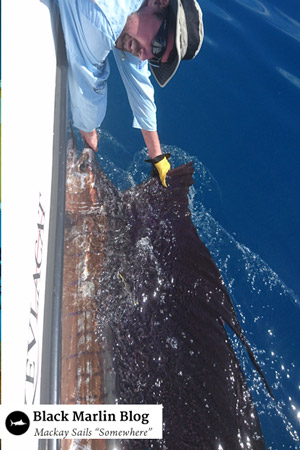 Some good fishing over the weekend for members of Mackay's GFC. Club President Craig Breadsell fished with father Dennis off Parker Reef in their 2400 Kevlacat Somewhere putting the billfish gear for a little while before changing to a bit of stocking for the Xmas table.  The livebait on 10kg screamed off and of course tangled with a bottomfishing rod loaded with braid when the sailfish jumped for the first time. They quickly cut the braid instead of trying to untangle and managed to tag the healthy 35-40kg sailfish in about 30 mins.  Things were about to get even more hectic running 4 rods, 2 teasers and a downrigger bait they soon had a triple hook up on sails unfortunately breaking off the larger two and the smallest staying connected – successfully tagged for Dennis at approx 20kg and finishing the day at 4-4-2.
Craig tells me among other recent fish for club members, Time Out  also caught 2 nice cobia (both caught bottom fishing about 13-14kg) which were the first of that species for the lucky angler, Mackay Game Fish Club secretary Brad Thirlaway. And two of the club's smallfry/juniors also caught 2 pending Aus/ IGFA records last weekend.   A GT about 30kg on 8, and another cobia at 29kg on 8kg line!
Exmouth Heavy Tackle Tournament
22 boats fishing the annual Heavy Tackle Tournament over the weekend with the event that raising 190 billfish with 139 hook ups and 67 tags in the three days of fishing.  The majority of fish were blue marlin.
Team Waverider managed a grand slam on the third day and also took out the top prize.
Champion boat overall – Waverider
Champion boat runner up – Pelagic Hooker
Heaviest Yellowfin – Hold On with a 92kg yellowfin tuna
Heaviest other pelagic – Inn Keeper with a 20kgwahho and runner up was In Deep with a 14kg wahoo
Most tags day one – Pelagic Hooker with 7 tags
Most tags day two – Waverider with 6 tags
Most tags day three – Outsider with 3 tags
Jeni tells me that also had a few other horse yellowfin at 70kg, 61kg and a great effort by the 13 year old Darcy Bryce with a 60.3kg model. Darcy also tagged 3 blue marlin for the comp. Well done Darcy!
Although there is a section in the event for the heaviest marlin weighed, all billfish were tagged and none were brought in for capture.
Sadly on day one team Game On didn't make it to the grounds after a fire started on their vessel.  Several teams raced to their aid, however the 50ft Keywest was tragically engulfed and destroyed in a matter of minutes. Luckily the quick thinking of the crew aboard had them all safe in a life raft.  The crew would like to remind everyone of the importance of having a grab bag and life jackets easily accessible, for this fire was unbelievably uncontrollable and there was very little time to rummage through hatches to find safety gear. The remnants are now sitting on the ocean floor and owner Graeme Heel has named the (now) FAD location as Game Over(!)
Photos above and below.