The holidays are packing lots of beakie fun for crews fishing on the Sunshine and Gold Coasts.
Off the Sunshine Coast both clubs got in on the action.
The Sunshine GFC crews have been very busy bees with club tag numbers zeroing in on 200 already for the year!  Club Captain Brent Higgins tells me that for members while the fishing was a little hit and miss prior to Xmas, fish are turning up around the 8 mile and cape Moreton waters. Craig McCulloch on Reel Capture and Grant Cooper on Jubilado ventured a little wider on Thursday and found several fish in 80-100m. Since then club boats have continued to fish there and have tagged quite a few with some boats seeing 8-10 a day. The bite had been unusually soft however, causing conversions to be keep at 3, 2's and 1's. Boats to tag little blacks include Reel Capture, Jubilado, NeverHome, Raise A Bill, Shearwater, Whitehorse, Raising Havoc and Chaos went wide resulting in in a 400lb blue and a striped marlin. Moose went heavy as well and got a nice striped marlin (photo below). Young Max on Dragon Lady got the little black (photo at top) so the club has had all the men, ladies and juniors amongst them!  (Apologies if anyone is missed, its been a busy one for the club!)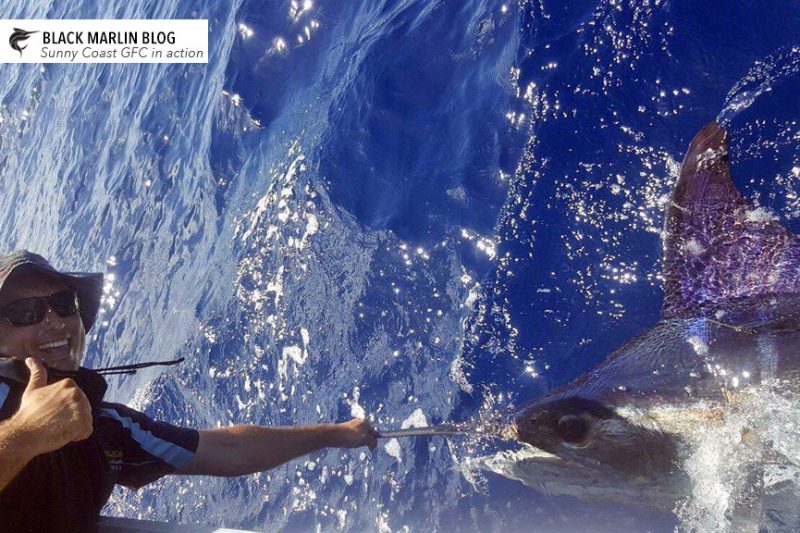 Kourtney on Never Home tells me they fished Friday going 3-2-0 dropping 2 fish after fighting for nearly 20mins each (!) as well as catching a few dollies. Then on Saturday they were out again recording 8-5-2 as well as another 2 fish in the spread that didn't bite so in total so saw 10 fish for the day. 3 jumped and spat the hooks with the two tagged at 20kg and 50kg (190 short length). Action shot below!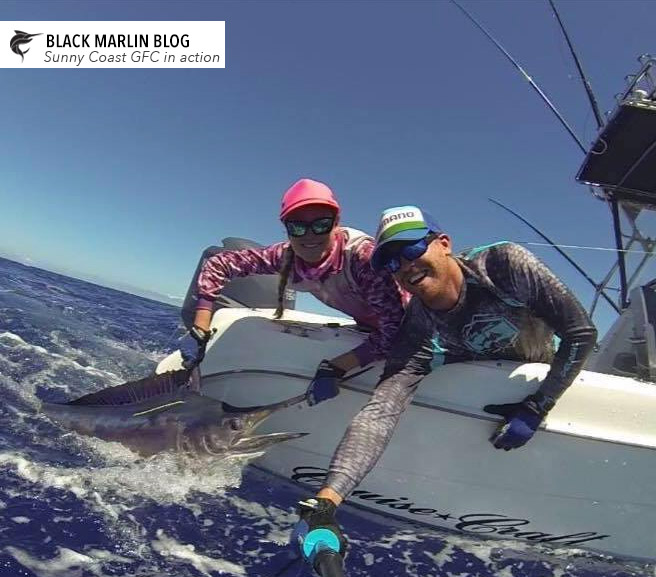 Mooloolaba GFC's Captain Jamie Behrens took his boat TakkaChee out past the Barwon Banks Saturday to put wife Jenni onto a New Years Eve light tackle black marlin. Likewise Steve Dahl took Reel Lady out to the same area yesterday and put his better half Debbi onto a New Years Day light tackle black as well. Jamie says the water temp is 25 degrees inshore, while offshore its over 26 degrees.

Sydney
I've seen that a few fish have been caught off Sydney and Port Stephens already this season. Port Hacking GFC's Bruce Rayment and family spent their NYs on the water for a striped estimated at 75kg for James on Friday which was part of a 4-3-1.  While Wollongong GFC club boat ROYALE, skippered by Daniel Barbara fished east of botany on Saturday finding blue water screaming down at 4knots in 85 fathoms. Daniel reports they went 2-2-1 after busting off one fish from a double hook up and tagging this 70kg model to Daniel Anderson.