Some better weather conditions south made a good weekend on the water for boats stretching all the way from the Gold Coast down to Bermagui.
Starting at the top, Capt. Ross McCubbin on Lucky Strike put Switchbait's Daniel Hickey on a good sized blue off the Gold Coast yesterday that he put in the 550lb range in glamour conditions (photo). Capt. Craig "Sparra" Denham's Hot Shot missed a blue on Saturday about 400 and then caught one yesterday about 250lbs. Sparra says there are plenty of good dollies around at 30-50lb. Ryan Goding Mojo put Mat onto a nice big stripe which gave him a 2 hours tussle on 8kg line before success.
Sad news for the Coffs/Solitary Islands season that never was with the Heavy Tackle Touranment on the weekend only producing the four fish.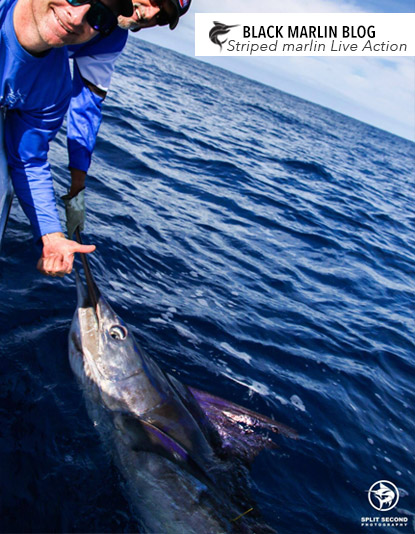 At Port and Newcastle, still hit and miss. Off Newcastle Claire Jones fished with Shan Riley and Paul Besoff on Lake Mac's Live Action for a 3-1-1 (photo).
Scott Lee gave the Port of Gold a swerve for the south coast on the weekend and found where all the slimey mackerel and striped marlin have been hanging out, to take advantage of the hot Bermi bit.
He fished 2 days on the Saltshaker with Andrew Homan and found no shortage of bait. Saturday was a little slow for them, marking plenty of marlin but only the one bite on a skip bait. A late afternoon bait ball was pretty cool but with 4 or 5 boats all over it, it was hard to get in on the action.
Sunday was a much calmer day and they started the day with a hook up whilst catching bait and rigging skip baits. They ended up with 4 fish from 6 bites for the day with a couple of those coming in very quick succession. Charlie Dale on Teaser came down on the Sunday after fishing Ulladulla the day before for zero's and fishing alongside, managed 3 for the day also.