Report from Bluewater Mag editor Tim Simpson back from a successful swordfish trip to Tassie.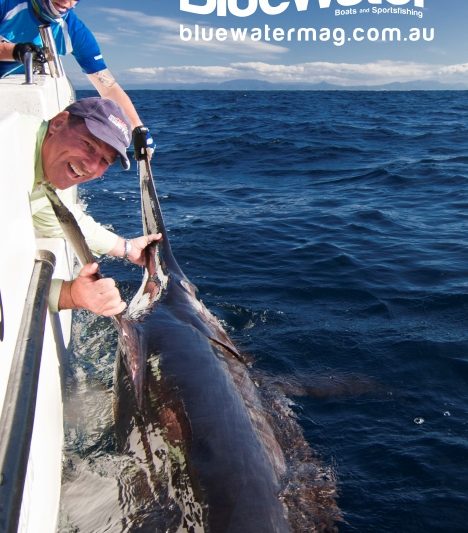 Tim and wife Trish were in north-eastern Tasmania last week, fishing off St Helens with Josh and Chloe Hammersley, Jamie Harris, and Dr Sean Tracey (who is a Senior Research Fellow at the Institute for Marine and Antarctic Studies (IMAS), University of Tasmania) on a 2-day mission to release swordfish with satellite tags.
Before the weather went bad, Tim said they enjoyed spectacular conditions with three species of albatross soaring all around. They were fishing on the bottom just past the continental shelf drop-off, in 500 to 600m of water and hooked five swordfish over the two days, but Tim's was the only one landed.
It was caught on a whole squid bait rigged on a stiffened bridle attached to a 20/0 Eagle Claw circle hook, and estimated at 300kg. The fish was released with a satellite tag after a 3hr 50min battle on stand-up tackle.
You'll see a few more photos and some video clips on the BlueWater Facebook page: www.Facebook.com/BlueWatermagazine
As Tim says, now that Australia's swordfish fishery is booming, BlueWater is working with the Australian Tagging Program to encourage more swordfish to be tagged and released. They are sponsoring an annual bronze swordfish trophy to be awarded to the boat tagging and releasing the most swordfish each year.
Details, photos and more to come in BlueWater issue 125!