After the original tournament dates had to be postponed due to and east coast low that whipped up enormous seas this year's Club Marine Broken Bay Invitational Tournament got underway on the morning of 20th of May with Thirty Six boats and 175 anglers all competing for a cash and prize pool of over $90,000.
Day one the ocean was lumpy but by mid-morning had abated to beautiful calm sea's as the forecast predicted.
The morning of day one was quiet with a few missed strikes until Claire Graham on Murrifin tagged the first striped marlin of the tournament on 10kg line and that set the ball rolling with Double Trigger, Big Blue and Team Dominator all tagging striped marlin and a lot more strikes reported from other competitors for no successful tags on the marlin front.
On the shark fishing front both Carnage and Rowdy had some hard luck loosing large sharks estimated to be 400-500kg. The team on Kill Tank fought an unseen shark for 4 hours into the night before the line parted. While junior angler Oska Davis landed 81kg blue shark on 15kg.
Day two saw the fleet traveling to sea in beautiful calm and sunny conditions but the fishing remained slow till early afternoon when the bite came alive in Mike 12 with Rowdy tagging a striped marlin. This was quickly followed by Murrifin, Anyfin, Escapade and Hermans Heros all reporting successful releases of striped marlin soon after. There were plenty of missed opportunities with hard luck story's going to the teams on Water Girl and Gorilla losing a few striped marlin in a row while Mr Pig lost a giant Tiger Shark boat side that they estimated to be 500-600kg. It was great to see the team on Finjitsu get young small fry angler Oscar Fleet hooked up and after 3hrs manage to secure a 113.5Kg tiger shark on 15kg. A huge effort for small fry angler. Rowdy hooked up late afternoon with another small fry angler this time James Fordham successfully releasing a striped tuna.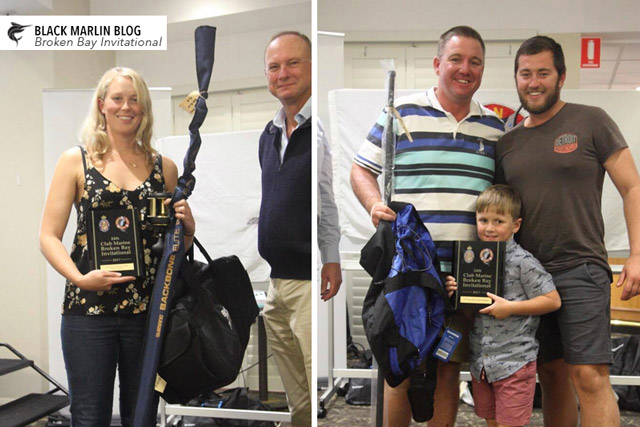 Sunday night 115 anglers and guests came together for the presentation dinner to talk about the weekends fishing and cheer on the winners over a quiet ale with the great help of the excellent RMYC food and hospitality, and this year winners were.
Tag & Release
Champion Boat: Murrifin
Runner Up: Team Dominator
3RD Place: Herman's Hero's
4th Place: Rowdy
5th Place : Anyfin
Champion Male Angler: Jeff Fetterplace
Champion Female Angler: Claire Graham
Champion Junior Angler: Ryan Kalzorowski
Champion Small Fry: James Fordam
Capture
Champion boat: Finjitsu
Runner Up: Mr Pig
Champion Junior Angler: Oska Davis
Champion Small Fry: Oscar Fleet
Broken Bay Game Fishing Club would like to thank all that attended this year's Club Marine Invitational and look forward to seeing you all again next year.
Big thanks to Rod for the full report!!