Updated below to include Sunday's fishing results!
Well we said that Cairns anglers were waiting for a break in the weather to target the juvenile black marlin that have been showing up and the last two days certainly provided them the opportunity and more!
Ian Ziebell's Thirsty led the way with an 11-10-8 while targeting mackerel wide of Fitzroy on Friday. Ian putting his crew of marlin virgins onto more than their first marlin a-peice! Ian said they really wanted to catch a feed of mackerel but it appeared there is more marlin than mackerel – but they did get there on that side in the end too!
Local crewman Daniel Radcliffe has been on charter with a few of the local fleet including Capt. Ross Finlayson's Top Shot for a 1 from 4 on Wednesday. So Daniel was in prime position to find the fish on his mate's boat Playing Hard and find them they did with a 8-4-2.
Paul and Sharon's Poulter's Think Big are already preparing for the Cairns Bluewater Billfish Comp Aug 23-27 putting in a day on the water for a 10-9-6 . Paul said the water was perfect and with wind blowing just over 10 knots and good bait schools everything lined up (photos below).  Updated: I heard from Sharon and Paul again on Sunday after a second day on the water where they added another 3 from 6 black marlin. That puts them at 9 for the weekend which is just great fishing!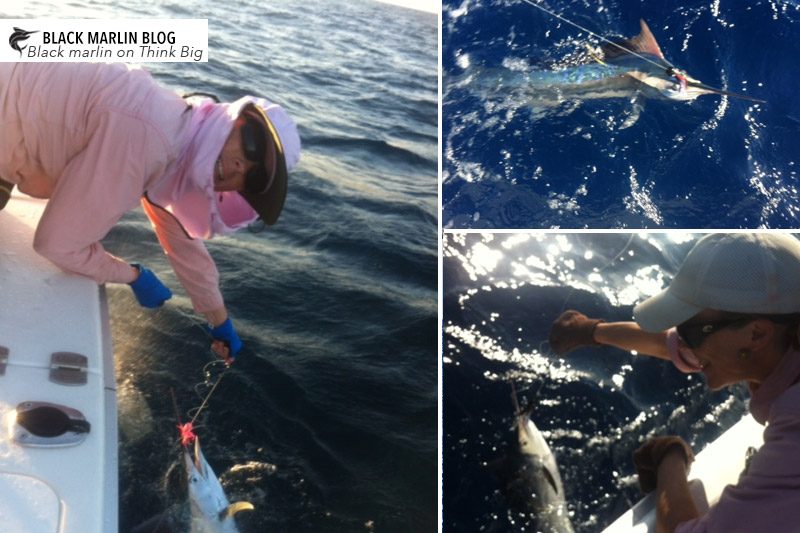 And Reg Moore also took some mates out on his boat Duyfken on Saturday for another two first marlin for his mates.
And penty more of the private fleet getting in on the action too!
Photo at top of the 43ft O'Brien Saamayzen with Simon Woolcott on the wheel hooked up on Friday.
[Marlin hugging season also seems to be in full swing. It would be nice to see some left in the water.]