Report from Sharon and Paul Poulter on Think Big who missed last weeks glamour weather being away frozen (skiing!) had to settle for more Cairns Bluewater pre-fishing in less than ideal conditions over the weekend.  Saturday wasn't too bad and a mid-morning start with good water colour they soon found the bait going 5-5-4.
Sunday was a different story with the forecast 10-15 more like 20-25 knots. Still they were able to raise 4, two of which didn't eat for a 2-2-1 with the second smaller fish released boat side without a tag and heading home early due to the weathers bad behavior.
Photo returning home below.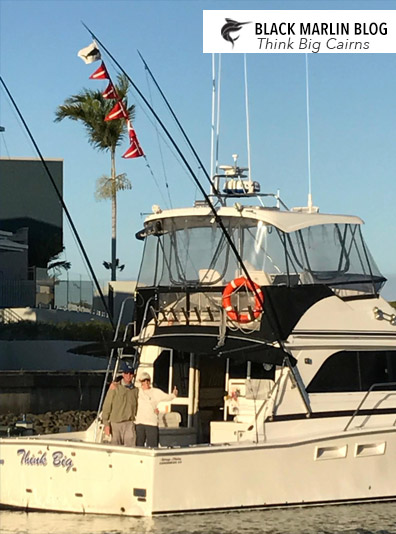 Catch up report from the previous weekend from Andrew Tivey also pre-fishing the Cairns Bluewater comp at Fitzroy in his bosses boat Out There going 2 from 8 (rubber hook syndrome) but successfully christening the boat with its first marlin.  He followed up again Sunday in his boat Hook In with a work mate going 2 from 4 — his first marlin now hooked!
The next tournament on the north's light tackle calendar, the Mike Carney Toyota Billfish Challenge in Townsville, in memoriam of long time sponsor and supporter of Townsville sport in general Mike Carney starts with briefing on Tuesday.
And another 'what the?' from the Gulf yet another pic via Weipa's Ben "Notso" Bright of a fish caught in the shallows at the mouth of the Pennefather river (beach)!