More good light tackle fishing off Cairns after a short lull as the water turned over last week.  Boats fishing mid-week were disappointed not to see the numbers reported Monday/Tuesday. But the fish returned again with Capt. Darren "Biggles" Haydon's Bounty Hunter recording a 3 from 5 on Friday and 4 from 4 Saturday with plenty of mackerel as well thrown in for his guests!
And a great recapture story on board Sharon and Paul Poulter's Think Big.  They fished Saturday for a quiet day with two marlin raised but missing. Sunday was a better day for the with the weather improving also and the fishing turning on for the tide change.  They missed the first fish which didn't get hooked rather lassoed around its bill.  The next fish was soon hooked and when it got to the boat they noticed it already had a tag in situ , after tagging the fish they removed the existing tag to send back to NSW tagging program.
And out of curiosity Sharon logged into the database and it turns out that this fish was tagged by themselves on 24th August in almost exacly the same spot. 247 billfish tagged during the Fitzroy tournament and the tagged fish they caught was their own!!
They finished up the day going 5-4-3 and had 2 nice mackerel to take home too.
And word from abroad with Bluewater Magazine's Tim Simpson fishing with wife Trish in Hawaii over the weekend on Capt Marlin Parker's Marlin Magic II.  Trish was soon hooked up to her first blue marlin of the day, but it was the second that set the heart pumping.  Fishing IGFA legal Trish released an estimated 850-900lb blue marlin that gave them a fantastic display. No doubt more to come on that on their return!
Cairns marlin season performance shirts
The CAIRNS MARLIN SEASON shirts are just over a week away from arrival. Limited numbers are unaccounted for so if you haven't made your order, get in now!
If you've already made your order you'll receive an update as soon as the shirts are received!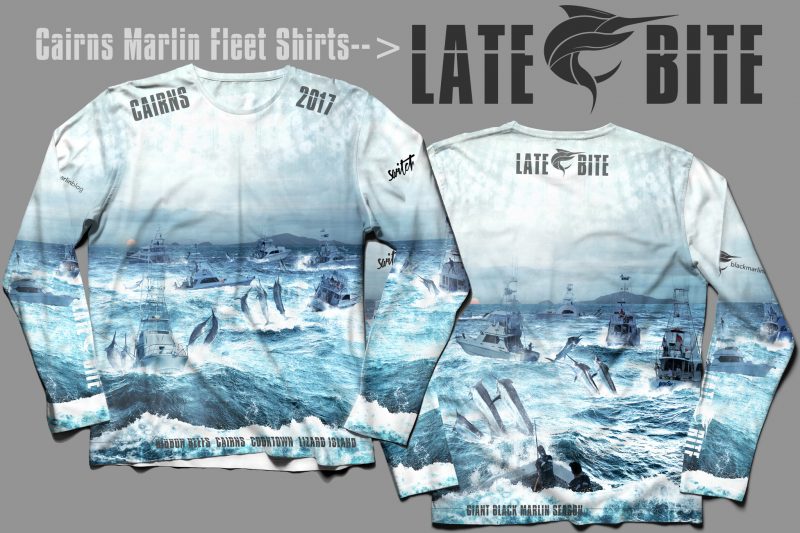 Featuring the professional marlin fleet including KEKOA, Top Shot, Askari, Viking, Kanahoee, Hot Shot, Bounty Hunter, Calypso, Tradition, Moana, Wild Turkey, Kalira, Amokura, Ultimate Lady and Levante. See if you can identify each boat!
These are actual action shots of boats hooked up and fighting taken by me (Kelly) and made into a photo print composite.
The shirts are performance UV protected all over prints with sizing XS to 4XL. (See the size chart for more information!) The shirts are cool, won't shrink or fade, have great UV protection and are quick drying – perfect for FISHING!!
This is a one of a kind shirt showcasing our fabulous fishery made by photo composite of my photos of the professional marlin fleet. Limited run only.
This is a limited run. Get your order in now.
The design (click to enlarge):
The fleet on hot fishing on Number 10 Ribbon Reef with the sun setting over Lizard Island in the background is the inspiration for this shirt which is called "Late Bite".

A couple of things to note:
Images are mockups only and while they are a very good representation of how the shirts will look, word placement and size and colour may vary slightly on the actual shirt and according to the size of shirt! See placement drawings for exact placement.
Shirts will be shipped mid-late September (they are being printed for shipping right now!). Pickup available for crew members in Cairns in mid-late September also. Dates will be circulated as soon as the shirts arrive!
Contact me also for any questions!