Heavy Tackle
Some more good early season fishing this week as the school holidays bring families to the GBR.  Owner Darren Sandy has his family on board Amokura this week and Capt. Brett Goetze put Darren's son, 13 year old Matthew onto his first heavy tackle fish yesterday at 800lbs. Not bad for your first time in the chair! They finished the day 3-3-3 with two more at 200 and 400lbs.
Capt. Corey Hard's Askari was back into Cooktown on changeover after another 5 days on the Ribbons. Corey reports some more great light and heavy tackle fishing.  They spent 4 afternoons heavy tackle for 10 fish with the biggest being around the 650lb mark.
Down off Cairns many local boats were enjoying their first heavy tackle trips of the season (and I'll update for Sunday's fishing tomorrow) on Hook In.  Ryan Tivey Linden Bank today his old man and a couple mates and went 1-1-1 for half a days fishing after trying to stock up on some baits. Ryan said they put the fish at around the 350lb mark and they got some great shots (at top). It was almost just a window shopper following them for about 20mins, as they threw everything at it to try get it to bite. But bite it did. As Ryan says a good little cranky fish to start the season off!
And Jason on Marlin Brando had another heavy tackle run at Linden Bank on Friday for an unlucky 1-1-0. Jason said it was a good long fight, only to loose the fish in sight of the boat! Much better size this time 300lbs+.
Light Tackle
While crews to the south are eagerly awaiting their shot at the smaller fish as the migrate in that direction, there's still a lot of life in the Cairns light tackle season yet.  Capt. Luke Fallon's KEKOA hosted Craig and Shane as well as Craig's two sons Tyler and Cory overnight light tackle and an awesome day of fishing with 8 from 12 black marlin was only topped off by watching the Cowboys make the Grand Final from anchor at Fitzroy Island.  Two more fish were dropped right next to the boat and the rest pretty soft bites. One of the 8 was previously tagged and the tag recovered. They also raised another 4 that didn't eat.  What a great day on the water!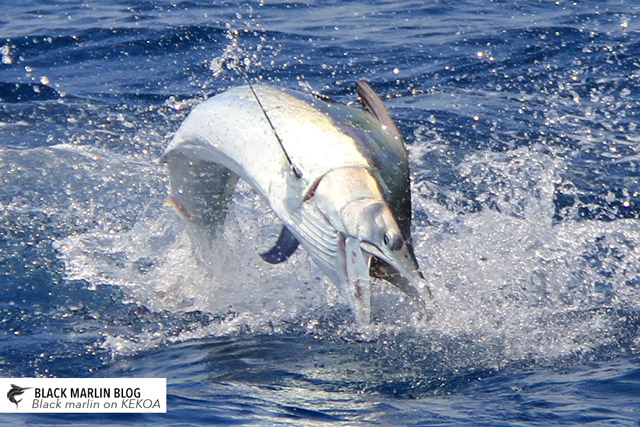 Travis Franklin fish on Catlyst (owner Bevan Jones) Friday and they started the morning off at the Wide Grounds only to have one small fish swim through the spread not even interested in the lures. So they took advantage of the weather to head for a quick swim at Oyster reef and fed the fish.
In the afternoon they went to the Fitzroy ground and instantly found the bait and within 20mintues we were on the board. They finished the day with a 4-3-3 and as well as some good tuna baits for Bevan for his heavy tackle season. Travis reports it was the first time serious game fishing for the two anglers scoring there first marlin and the 2 to 1 for female bragging rights!