What a great start to the season for big fish its been with that run continuing yesterday.  Capt. Daniel McCarthy on Moana III put his guests onto another big fish with a 950+ as well as a 300lb-er earlier in the day (photo below).
Top Shot's crewman David Borges took this photo at top of Capt. Haydon Bell's Kanahoee in action on a nice one with Brandon Wilder on the leader.
And Capt. Craig "Sparra" Denham's Hot Shot also had another nice fight fighting a 950lb+ for 3 hrs into the dark.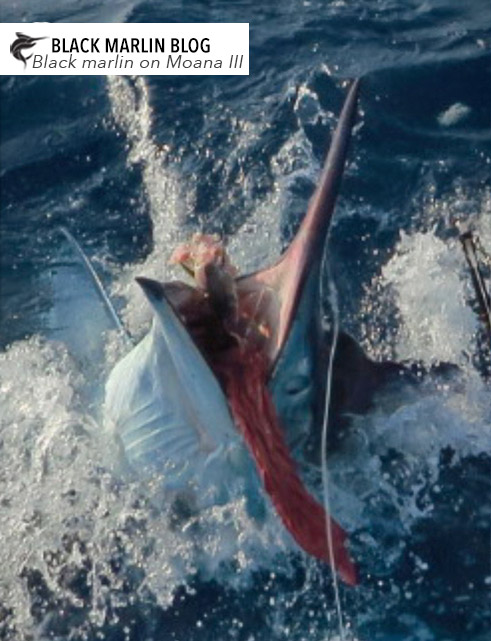 Updated twice: Capt. Daniel Klein on Onsite is also back in on changeover with another had another fun trip with 4 in 4 days including one decent one (pic).

And another grander update from Capt. Mark Parkinson on Black Label who reports a marlin he put at a grand for angler George Karst. It's George's second Grander on the reef yesterday 11 years apart in the same spot. Pic below.

Weipa Billfish Tournament Day 2
Better fishing on Day 2 with more boats joining the scoreboard.  Ben "Notso" Bright tells me unofficially that his boat Last Cast is still in the lead with three tags (and a DQ) heading into Day 3 on countback to Wine Down also on 3, to Great Northern with a sail and the only black thus far, Striper, Line Burner, Get N Any, Tag Team all with 2 and "Go the Cowboys", Fit Cat, Gayle Force and team Runamuc all with one sail each.
Ben says its great to see the juniors get among the fish and the glamour weather continue.
There will be no results posted now until after presentation on Tuesday night. Good luck to everyone again today!