Cairns
Still a few fish around and reports coming in but this is what I have so far:  Capt. Tim Richardson on Tradition had a good day on the numbers yesterday going 3 from 3 in the 350-450lb range. A fish each for the guys fishing.
Capt. Darren "Biggles" Haydon's Bounty Hunter has just done 3 days around Opal area. Biggs said they had 4 bites and caught 2 at 400 and 150lbs.
Capt. Luke Fallon's KEKOA put novice marlin angler Geoff onto his first marlin at 350lbs. The fish got a bit wrapped up to give Geoff a tough fight with the peg mark just staying tantilisingly out of reach for  close to 20 mins but he hung in to get the fish boatside for some pics (all lit up at top) before the release.
I'm on the water now so hopefully more reports as we head up the reef to join the rest of the fleet on the Ribbons. (I'll post now in case we leave service but I'll add in reports if I can as I hear them!)
Below another photo of Kanahoee's big fish from the other day from Mike Tarmey on deck.
Weipa Billfish Comp
I don't have the final results from the comp yet although I do know that the team on Tag Time took out the win. Hopefully those results coming soon.
But the talk of the comp was the 20.7kg (gutted!) dolphin fish for Quinton Small on Just Teasin'. Kristy Philliskirk was fishing with Quinton and Tracey and tells me that Quinton fought it for 35 mins while she drove the boat.  Being a tag & release billfish tournament though they actually had no gaff on board so getting the fish in the boat was quite an achievement in itself.  Kristy had the double wrapped while Tracey looped a rope on its tail and then the ladies hauled it aboard!
Amazing catch – as always the waters of the gulf never fail to surprise me!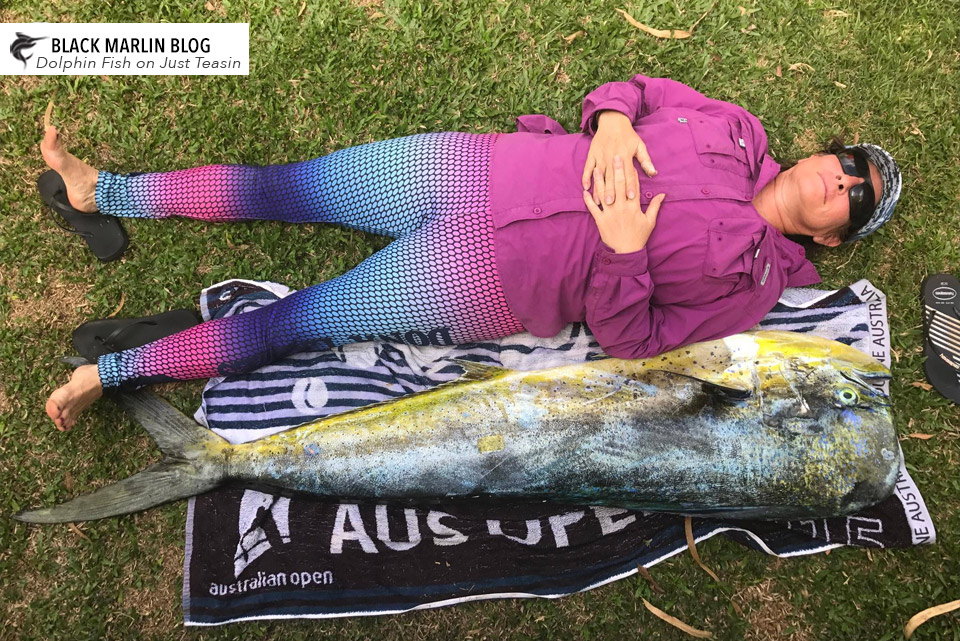 Gold Coast
Ryan Goding's Mojo took advantage of the long weekend for some time out on the blue marlin grounds and was rewarded with 2 blue marlin one nice sized fish! Quick clip of the release from Inst below!
Nice Black Marlin from today. We went 1-1-1 blue marlin and 1-1-1 black marlin. #tornadolures #marlin #bigfish #bluemarlin #blackmarlin #mojo #goldcoast #saltlife @cleadoux