Big fish on Capt. Tim Dean's Calypso yesterday with Brad Curtis at the wheel. Atlantic Princess' owner John Fairhill and friends with three for the day including this one, a fish that Brad put at 800. Brad said they had also caught two 200lbers Tuesday and another the day before.
Updated: And report from Capt. Brett Goetze's Amokura with Damon Gruzdev at the wheel this week also caught one he put at 800lbs yesterday.
Capt. Tim Richardson's Tradition added another two while on Capt. Luke Fallon's KEKOA we caught one on a lure on the way back into the reef edge.
Weipa Billfish Tournament
Picking up the reporting from Day 3, which started like the first with Dean Butler on Line Burner again tagging the first fish of the day.
Although another slow start, by the middle of the day most boats had had bites. The second sked saw 6 fish tagged 3 of which were caught by Tag Team which propelled it into first place which they maintained to cease fishing.
There was a hot bite on the last sked with Gayle Force reporting a 15-8-2. Wine Down, on its way over to Gayle Force to get drone footage hooked a double header with ten minutes to cease fishing and ended up tagging 1 from 2 to move into second place. Gayle Force in the meantime had a triple header which unfortunately resulted in all fish being lost.
Photo taken by Ben Bright on Last Cast of Great Northern hooked up.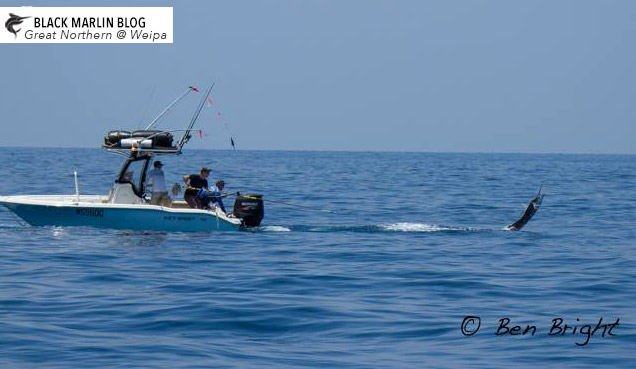 Final results:
Champion Team: Tag Team
Runner up Team: Wine Down
Third Team: Last Cast
Champion Male: Dean Butler
Runner up Male: Dave Cordukes
Third place Male: Brendan Rolt
Champion Female: Talina O'Brien
Runner Up Female: Andrea Kennedy
Third place Female Tracey Small
Champion Junior: Ben French
Runner up Junior: Louis Argent
Third place junior: Baylee Morana
Heaviest other Gamefish: Quinton Small 20.7 kg Dolphinfish