Capt. Corey Hard's Askari finished up this big three vessell Dreamin' On marlin season extravaganza yesterday (no rest for the wicked, back at it today!) catching 9 in the last 4 days to give him a massive total of 83 marlin for the 30day trip. Corey wanted to thank his fellow Captains and crew for all there hard work and for making the trip such a success and full of fun and laughter. To Warren, David and Steve also a huge Thankyou and he can't wait to do it again next year. The total for the three boats (Askari, Dreamin' On and Levante) came to a mega 147.
Port Hacking GFC's John Priddle on Dog House had an awesome day on the water yesterday finishing up with 6 from 8 including two around the 600lb mark and unfortunately pulling the hooks on one they put at 800lbs.  That follows up from Monday when they released an estimated 500lb black as well. What an awesome day of fishing!
Capt. Daniel McCarthy on Moana III reports last night was the start of the coral spawning (for those interested in that type of thing. The annual coral spawning usually occurs a few days after the full moon in November where we fish and is quite the phenomenon!). Dan accounted for another fish yesterday that he put at 500lbs.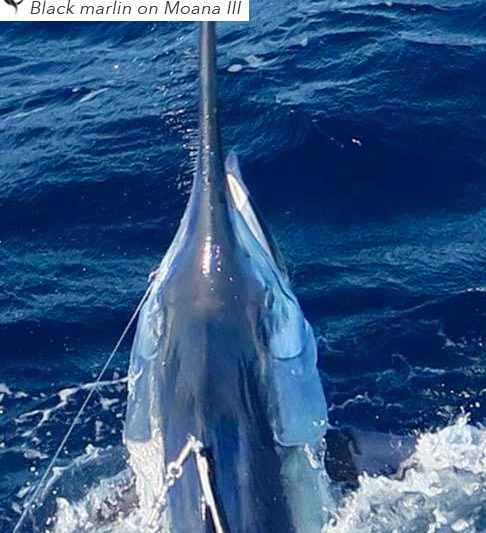 Myles Westin has rested Elempi in port for a well deserved break home to see the family. Myles reports they spent 9 days marlin fishing over the past two weeks from Hicks Reef in the north to Linden Bank in the south, and caught 8 marlin from 15 bites (7 blacks and 1 blue marlin). They also had some great bottom fishing and popper fishing, catching 31 different species of fish!
Bevan Jones also reports a good week at Linden Bank on his boat Catalyst including a great capture for Rick Bassett with a 30kg wahoo that smashed the short corner lure. Peter Curry tagged his first marlin, a nice 100kg black. They also fought an estimated 300kg + fish on for just over 2 hours for Paul Baylis that was very camera shy and spent most of its time about 20m under water flanked by its entourage of 2 smaller blacks. They gave a great underwater show before going into a deep dive that finally ended with a rapid swim to the surface and she spat the hook. A great way to end the weekend with the wind starting to pick up.  Photos from the trip below!
Fraser Weekend
Clubbies from both the Sunshine Coast and Gold Coast clubs made the pilgrimage to Fraser Island waters over the weekend to take advantage of some glamour weather conditions. Among them SCGFC's David "Tagpole" McMaster's Pole Dancer who went 5 from 5 light tackle on the blacks and 2 from 5 heavy tackle on blues.  Shearwater also released a blue for 13 year old Ben Wratten his first heavy tackle marlin – and on standup too! Congrats Ben!
Gold Coast GCF's Ryan Goding on his boat Mojo also scored an illusive grand slam on Sunday with 2 blacks, 1 sail and 2 blues.  That followed up from  2 blacks and a stripe on Saturday.  Congrats Ryan!!