Jason Lergessner reports from the Groote Eylandt Billfish Tournament.
Jason says that as the weather early in the comp was terrible, constant 20kt winds with heavy rainstorms which was pretty much un-fishable for a trailer boat fleet, many teams opted to change their 3 nominated fishing days to the following weekend. Midweek saw a change in the forecast and the teams that were on the water were able to capitalise on the better conditions which also seemed to fire the fish up or at least make them easier to find.
Tuesday the 14th saw a huge jump in numbers with only 5 teams fishing the combined skeds for that day alone were 19-18-11. The weather continued to ease towards the weekend resulting in glass off conditions however the bite slowed again and the fish were scattered.
The winning team (No More Favours) managed a great tally of 16 sails and 2 marlin. The biggest marlin of the comp was caught by Syd Laker and measured out to 96" short length which according to the growth charts information on hand should be approximately 300lb+.
The stats: 36 teams – 147 raised, 65 hooked & 43 tagged. (39 sailfish, 4 marlin)
Prize category winners were:
• Champion Team – No More Favours – 10000pt
• Champion Male – Kane Dysart – 4500pt
• Champion Female – Rachael Barnett – 2000pt
• Champion Junior – Jayden Lergessner – 500pt
• First Billfish Day 1 – David Sullivan, SNFI, sail @ 0706
• First Billfish Day 2 – Alex Josephsen, Trasea II, sail @ 0721
• First Billfish Day 3 – Grant Kussrow, Trasea II, sail @ 0714
• Longest Mackerel – Ross McDonald – 143cm
• Longest Tuna – Ahren Mazlin – 106cm
• Black Beauty: Largest Black Marlin – Syd Laker, 96in, Est 140kg
---
Cairns Catchup Pic
Adam Newcombe sent me this shot of wife Anissa fishing on tournament winners' Absolute in the Lizard Island Tournament. Her 1st marlin on heavy tackle and one she will never forget. What a great action shot!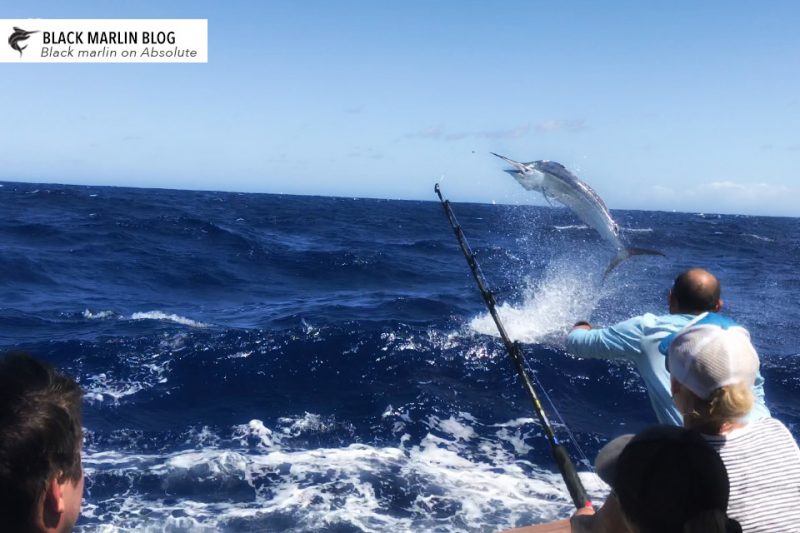 Fraser Bite
Fishing continues to be good off Fraser with Caboom, Kaching and Salty Dog fishing yesterday for 2-3 blue marlin a peice and a few good sized dollies around too.  The records chasers on French Look and KEKOA also getting amongst the fish.
I should be back in proper internet range tonight so will catch up on anything I've missed then! :-)