Updated for Monday fishing: Aurora got the grand slam (1 black, 1 stripe, 2 blues) yesterday while Game & Leisure's Graham McCloy on Caboom released four as did Capt. Bobby Jones' Merlin with 4 from 4 all blues. The ultra-light record chasers on French Look III and KEKOA each raised over 10 fish.
—
The fishing off Fraser has gone from strength to strength with both the Hervey Bay Game Fishing Tournament fleet and fleet outside the comp recording some awesome numbers. While the official tournament results are not available yet, I did hear some of the skeds over the radio and line class willing, Capt. Brett Alty's Mistress took home the champions trophy with 8 blue marlin tags (2 tags day 1, 6 tags day 2 and a dolphin fish on the final day) including a decent fish he put at 600lbs on the second day.
The Mackay based trailer boat Hardline was 7-5-2 by 10am yesterday morning (blue and a stripe) which gave them the Champion Boat Under 7.5ms award (7 tags) and overall 2nd place.  Ryan Goding's Mojo also on 3 tags for the morning sked which was enough to give Aaron Baldwin the Champion Angler award. Jay Graham's Chaos also coming home strong with 2 tags which gave Dee Cox the Champion Female trophy, as were the teams on Raise A Bill and Obsession with 2 marlin tags a piece by 10am.
Day 1 saw 25 billfish tags (16 blues, 8 blacks, 1 stripe), Day 2 38 tags. [More to come.]
Outside of the comp Capt. Bobby Jones' Merlin topped of a couple of good days fishing with a massive 7 from 9 yesterday (5 blues, 2 stripes) making 10 in the past 3 days for them. Ross McCubbin who is on board on deck again tells me they also missed a big one yesterday.
James' Holt was at the wheel of French Look III for a social day of fishing Friday with 2 from 8 before resuming the record hunt. Likewise on Capt. Luke Fallon's KEKOA we resume the record hunt today with angler Gary Carter on board ultra light tackle fishing raising 10 on Friday, 5 Saturday and only the two chances yesterday. A photo of one of the blues we switched onto the ultra light below.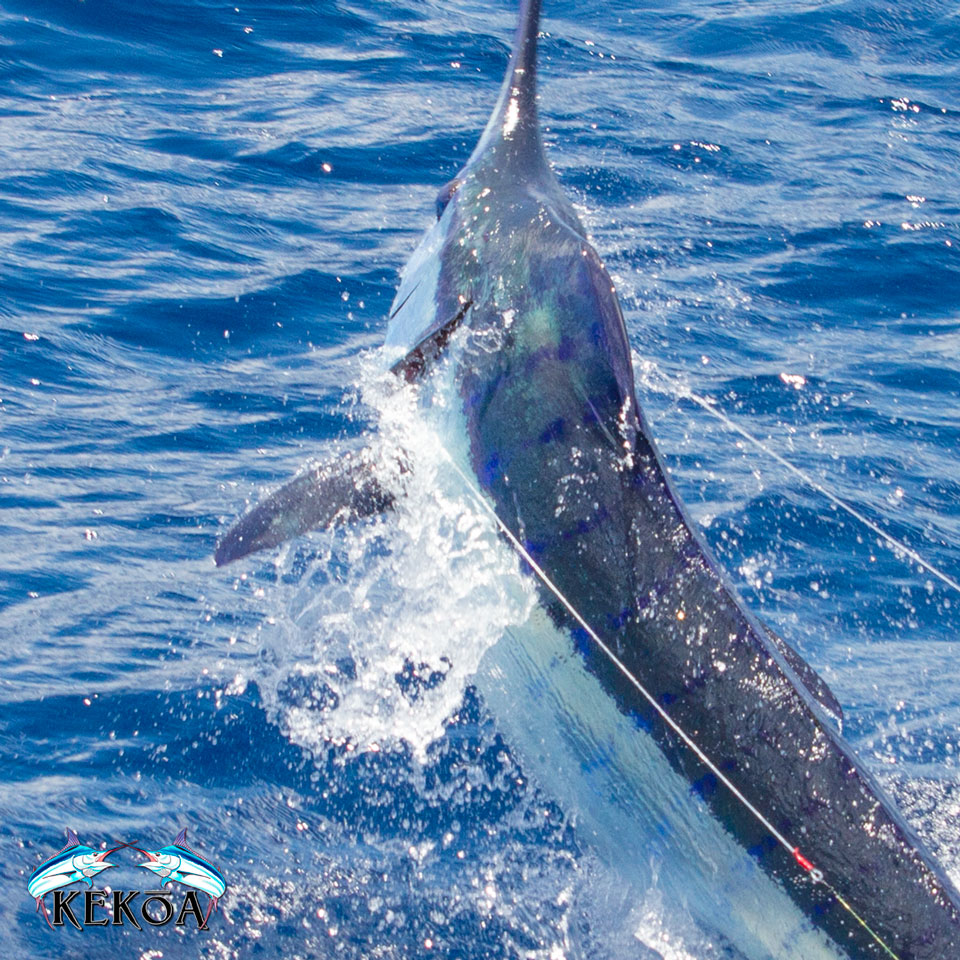 Solitary Islands – Coffs Coast
The Solitary Islands Game Fishing Club boats have enjoyed some exciting midweek fishing, with John Stafford on Foreign Exchange tagging a spearfish and a striped marlin, plus losing a blue, while Beau Patten on Hemingway lost a blue also and tagged a striped. Most of the action was directly out the front of Coffs, but Matador slipped away to the south where Sultan Linjawi tagged a 120 blue.
The water is blue, about 25 degrees, and down to the south at least there's plenty of bait holding.