Updated for Tuesday 28/11: Capt. Luke Fallon's KEKOA released 6 from 10 blue marlin at Fraser Island for Scotty and Glen with the biggest a nice blue at 650lbs.  Kaboom got 2, Sea Baby 2, Bluewater 4 (blacks) and Special K got 1 and lost a couple including a big one.
Grant Thompson sent me the pic at bottom from a 1 from 4 at Cape Moreton on Cjig with the crew from Megumi on board – Laurie in the chair and Matty on deck.
—
2017 has been the season of the drones on the Great Barrier Reef and no doubt we'll see more of this type of footage in years to come. This week it was on Capt. Ross Finlayson's Top Shot that some more awesome-ness was captured and while the footage itself is yet-to-come (and we'll save that for official release) you can see the drone in shots below from Top Shot on Sunday with two from 4, one in the very big and one in the small category!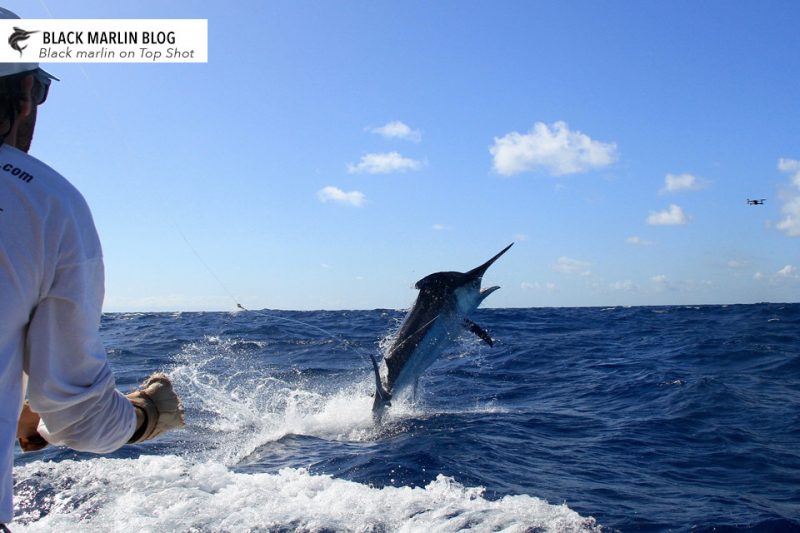 Seems like there have been a few more fish around this week particularly of the small variety with a smattering of big fish thrown in for Cairns quality!
Catch up report also from Capt. Daniel Klein on Onsite who makes his way towards Fraser Island today on the journey home from a successful first Cairns season for him on the boat. They just finished up the trip south Cairns to Townsville via Myrmidon Reef and Dan says they had a fun trip catching a marlin each day a mix of blues and blacks with the biggest one 750 plus heaps of nice yellowfin, doggies, dolphin fish and wahoo! .
More action a plenty off Fraser Island itself yesterday as well with Capt. Luke Fallon's KEKOA getting a HT Grand Slam yesterday with a blue, black and stripe.  Pete on Bluewater also released three (a black and 2 blues) on standup and is wishing he had chair tackle! Meanwhile Capt. Brett Alty's Mistress added another 2 blues to their impressive season tally and likewise for Graham McCloy's Caboom. There were a few more fish around for other boats as well.