A big weekend on the water with several tournaments fought out along the east coast.
On the Gold Coast, Day 3 of the Garmin Light Tackle Masters proved a winner for Capt. Glanville Heydenrych and team on Mufasa. The other boats may not have seen them coming with a stunning come from behind tagging 8 from 9 black marlin on the final day to claim the trophy!
Glanville tells me that they had a very tough first 2 days with luck just not on their side. Day one opportunities lost with missing 3 fish. Day 2 an absolute shocker without a bite in tough conditions. Day 3 the game plant was to find a live bait bite and fish it hard and after visiting 2 different marks early in the morning for no bait, Glanville found a small not very exciting looking ball of bait on the third mark but fortunately it had a fish marking on it. The first set of livies on and they were hooked up had it to themselves notching up 3 fish pretty quick before the fleet arrived. Then it was pretty much one for one till the death with Capt. Bill Billson's Viking II and 2 quick ones in 20mins half an hour from cease fishing put them in front. Glanville says it was an epic day and he can't thank his crew enough they were faultless in a pretty intense situation!
Second place went to Viking II with 7 tags from the team on Jugs in third with 6 (marlin numbers only!) Photos above and below including a shot of the team in action from Adrian Gray.
Outside the comp, Capt. Ross McCubbin on Lucky Strike reports 2-3 a day for the last 4 days with some larger models and a few sails mixed in (pic below).
Central Coast
What a great way to notch up your first blue marlin by finishing with a Grand Slam! Fishing with Luke Bell and Ryan Morgan off the central coast on Asalt Weapon Sharleen Agudelo got her first blue and also and ticked off the teams first grand slam starting with the blue (nice one with a 2.96m short length @ 200+kg) then they went inside the shelf to find a stripe and finished off with a black.  Great result also for Sharleen in only her second season game fishing!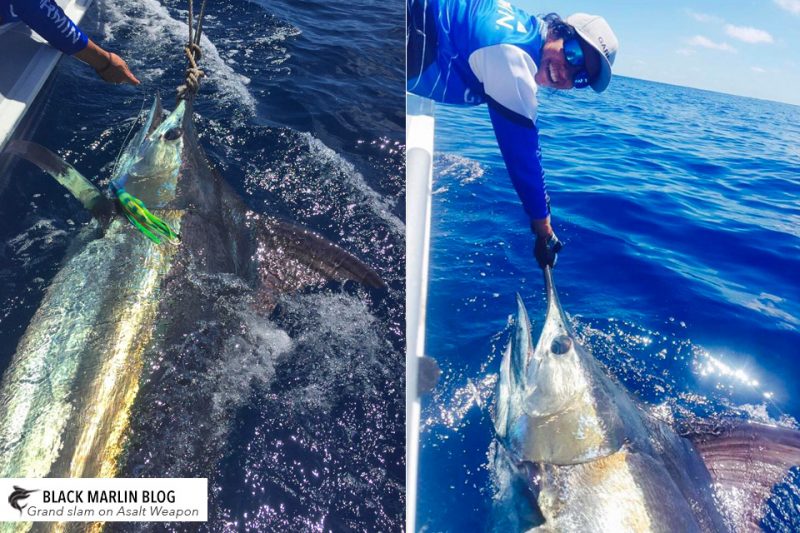 Port Hacking GFCers
Only fishing the Saturday point score but a great day of fishing also for The Outlaw who went 8-6-3 on 2 x striped marlin to David Joyce as well as a blue marlin. David said other PHGFC club boats scoring on the weekend included Onsite with 2 tagged stripes and a blue weighing 128kg, Moonshine with 2 stripes and The Office with skipper/owner Matt Anstee getting their first ever marlin – a stripe – after a 3 year chase! Congrats Matt!!

Tollgate Islands Classic
Batemana's Bay Touranment Report to come but congrats to the team on Head Hunter who took out Champion Boat with an 11-11-10. With 8 of those tags on Day 1, it would have been a tense end to fishing for opposite reasons to Mufasa but great fishing on the south coast too!
Exmouth
And not to forget Exmouth (as if we could) with Peak Sport Fishing's Eddy Lawler plugging away. In the last few days with angler Andrew Lewis, Saturday was 3 from 3 blues including two that Eddy put at over 500lbs (500 & 600) in an hour!  Friday was 1 from 1 black marlin (this time a 500lb black) and 1 from 2 blue marlin.
Mick Miers tells me that Exmouth fish have also been among a number of recent satellite tag deployments. 5 sat tags deployed off Exmouth, 1 in the Gulf of Carpentaria with Ben Bright and 2 off  Townsville.