Updated 20 Feb: And a quick report from PNG from Saltaire's Capt. Damian Collette.
Damian tells me that Muddy's Memorial Billfish Tournament was held over the weekend. They had 11 boats fishing the tournament resulting in 21 strikes, 17 hookups and 7 marlin recorded (2 boated as well as 5 tagged). Ray Seeto released the blue below that didn't have a bill!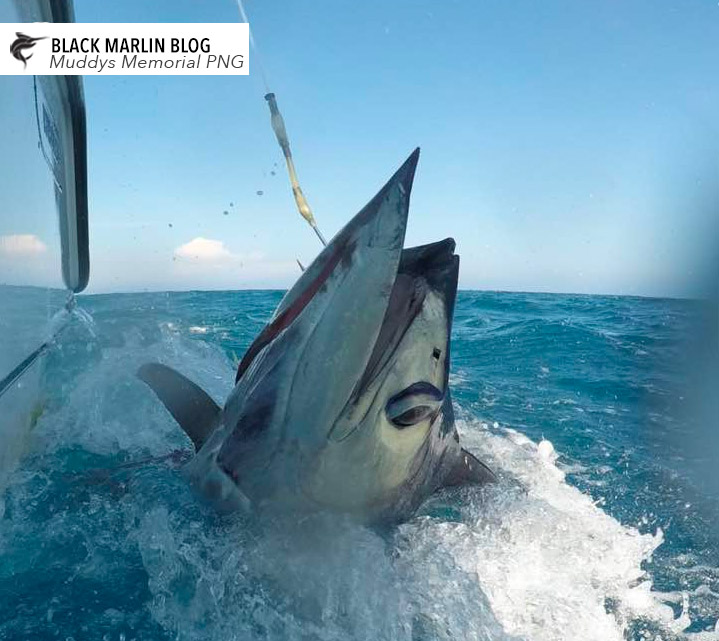 ---
Previously: Two big tournament reports today with some of the tournament fleet at both the Sunshine Coast Classic and Garmin Billfish Shootout experiencing some really world class fishing!
Starting at the top (north):
Sunshine Coast Classic
If there were any concerns with how postponing the event (due to weather the original weekend) would affect the fishing, they were allayed from the outset.
Thanks to Brent for the final results which are: Overall 57 point scoring fish were recorded over the two days of fishing made up of 48 black marlin 2 striped marlin, 1 sailfish, 3 wahoo and 3 dolphin fish.
The Champion Team Overall  trophy went to the team on Reel Capture who tagged 13 blacks and 1 sail fishing light tackle (switch baiting!). Channon Arbuthnot who with 10 tags to his own credit has scored a new record for a single angler at the Classic and took out Champion Angler Overall and Champion Angler Light Tackle.
Sicario were Overall Runner Up with 1 stripe and 1 black to Brett Barton who was also Champion HT angler and Runner Up Angler Overall.
3rd place went to Site Office with 2 black marlin heavy tackle for Champion Female Overall and Heavy Tackle Female angler Wendy Pendrick.
Champion Boat Under 7m went to Preposterous with the Runner Up <7 AThrill.  Champion Angler Other Species was Ryan Parr.
With heavy tackle point scoring 3:1 light tackle, the junior division was hotly contested! Bryce Bartleson took out the Champion Junior with his striped marlin on Reel Action from Ben Massurit who was Runner Up Junior with 3 black marlin light tackle on AThrill.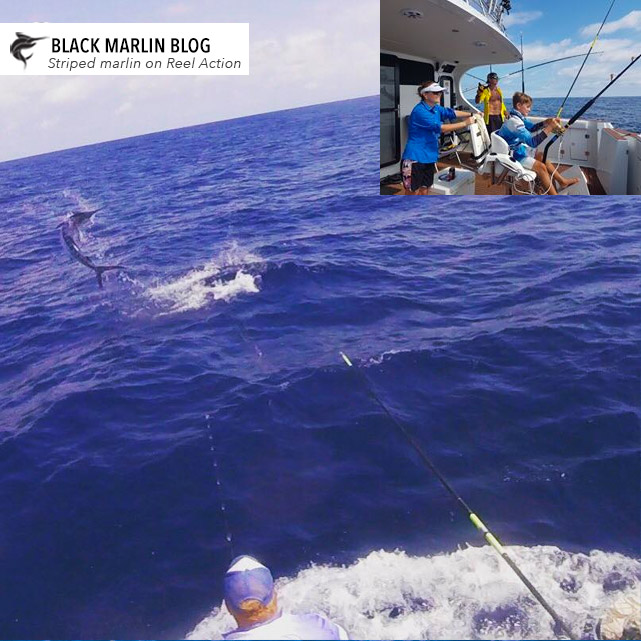 Outside the comp: Club boats also enjoyed some good fishing on Saturday. On Raising Havoc Marlise Barker tried her hand at switch baiting for the first time for 4 blacks and Kourtney Fenwick on Never Home also recording 3 from 8. The blacks are still biting on the Gold Coast as well with Capt. Craig "Sparra" Denham's Hot Shot recording 3 from 3 yesterday (photos at top).
Newcastle Port Stephens 2018 Garmin Billfish Shootout
Wow what a finish and some great fishing over the two days!  Before the over results, some of the significant catches and stats.  The team on Port Hacking's The Rabbit wowed on day 1 with 8 tags being 6 blues, 2 stripes and a black converting the daily Grand Slam in the last hour of fishing!  They added another 4 tags (3 blues and a stripe) on day 2 for a total of 13 tags in the two days.  But they were pipped at the post by the team on NPSGFC's Billistic who won with 9 black marlin tags (points) all caught on the first day of fishing!  Would have been a very nervous day 2!!
And following up from their 3 tags on day 1, the team lead by Capt. Daniel Klein on Cookie enjoyed some truly world class fishing with 8 from 8 blue marlin yesterday. While one was released sans tag they also tagged a spear to put them on 11 tags for the comp.
On the capture side, Capt. Tim Dean's Calypso narrowly missed out on the 100k cash bonus for blue marlin over 236kg with their 231kg blue to angler Adam Hoey on Day 1 which was still enough to give them the Heaviest Blue Marlin prize. Victory 2 also weighed a 375kg tiger shark to take out the shark award.
The club has done an awesome job keeping the scores up-to-date. Final stats (huge thank you to Nigel for these!)
Tag & Release – Winner & Points
Champion Team 1 Billistic – NPSGFC 112500.00 points
Champion Team 2 Rabbit PHGFC 110500.00 points
Champion Team 3 Reel Trouble GLGFC 100000.00 points
Champion Team 4 Wildthing NPSGFC 87500.00 points C/B
Champion Team 5 Freedom CCGFC 87500.00 pointsC/B
Champion Team 6 Cookie PHGFC 86000.00 Points
Champion Team 7 Hoodlum SGFC 75000.00 Points C/B
Champion Team 8 True Grit NPSGFC 75000.00 Points C/B
Champion Team 9 Casey SGFC 75000.00 Points C/B
Champion Team 10 Smartbill SGFC 72000.00 Points
Champion Male Junior Thomas Frima 37500.00 Points
Champion Male Junior Brody Mckay 35500.00 Points
First marlin Tagged by a Junior Oscar Flett 17/02/18 8.50am
Heaviest Marlin Min 236kg Not won
Heaviest Marlin Min 150 KG Calypso NPSGFC 231.4kg Blue Marlin
Heaviest Shark Min 350KG Victory 2 LMGFC 375.6kg Tiger Shark
Champion Boat T&R under 8m Not won (Prize was split into 5 x $1000.00 draws)
Anglers – 767
Boats – 166
Marlin – black tagged 152
Marlin – blue tagged 90
Marlin – Sstriped 43
Other gamefish
Short Bill spearfish 7
---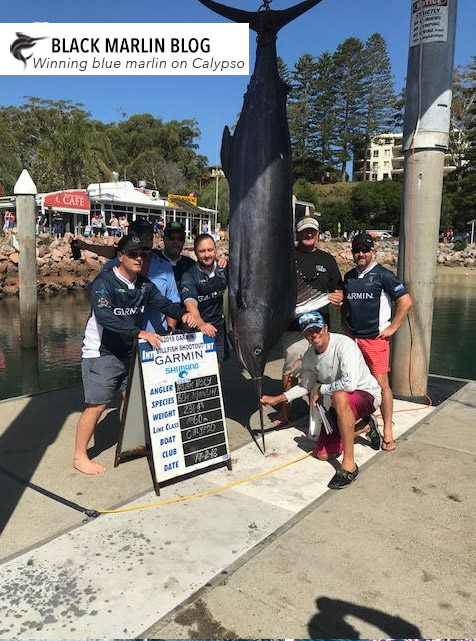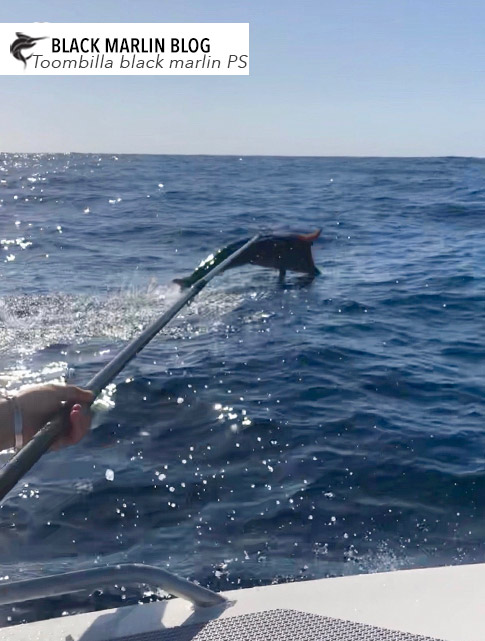 Updated: photo below via Dave Tucker (thanks Dave!) of a fish for Jessica Cox at the shootout on the weekend. Dave says Jessica was fishing on Toombilla and tagged 3 black marlin in her first tournament! Congrats Jessica!
Check out the final pointscores here:
Detailed Angler Tag & Release Report http://www.npsgfc.com/…/Detailed-Angler-Report-Tag-Release-…
Detailed Boat Tag & Release Report http://www.npsgfc.com/…/Detailed-Tag-Release-Boat-Report-Da…
Summary Angler Tag & Release Report http://www.npsgfc.com/…/Summary-Angler-Tag-Release-Report-D…
Summary Boat Tag & Release Report http://www.npsgfc.com/…/Summary-Boat-Tag-Release-Report-Day…
Detailed Angler Capture Report http://www.npsgfc.com/…/Detailed-Angler-Capture-Report-Day-…
Detailed Boat Capture Report http://www.npsgfc.com/…/Detailed-Boat-Capture-Report-Day-1-…
Summary Boat Capture Report http://www.npsgfc.com/…/Summary-Boat-Capture-Report-Day-1-2…
Summary Angler Capture Report http://www.npsgfc.com/…/Summary-Angler-Capture-Report-Day-1…
Species Report http://www.npsgfc.com/…/…/2018/02/Species-Report-Day-1-2.pdf