A big weekend of tournament fishing is upon us. Good luck to teams competing.
A quick update:
Sunshine Coast GFC Classic
Day 1 sees Craig McCulloch's Reel Capture (5 from 6) at the top of the leaderboard.  Overall stats are 18 black marlin, 1 striped marlin and a wahoo.
Good luck to crews again today! (Thanks so much for the regular updates!)
Leaderboard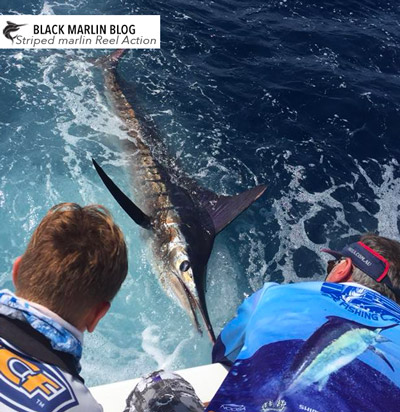 Reel Capture L/T 5 Black Marlin
Sea Star H/T 1 Black Marlin
Site Office H/T 1 Black Marlin
Reel Action H/T 1 Striped Marlin
Rampage H/T 1 Black Marlin
Athrill L/T 3 Black Marlin
Black Magic L/T 2 Black Marlin
Alleycass L/T 2 Black Marlin
Sownami L/T 2 Black Marlin
Preposterous L/T 1 Black Marlin & Wahoo 9.25kg
Picture from Reel Action of Bryce Bartleson's first heavy tackle fish (est 80kg striped marlin).
Port Stephens fishing & Shootout
The Newcastle Port Stephens GFC 2018 Garmin Billfish Shootout starts today out of Port and there are 165 boats (750 anglers) competing! Massive!
And the fishing has been great mid week and so hopefully lots of fish reported.
Catch up reports – Simon Rinaldi's Red Hot Fishing Charters getting one striped and tagging 4 blacks (missing number 5) on a half day last week (photo at top!)
Simon says there has been some good fishing on the both the inshore blacks and the Carpark holding plenty of blacks and the odd stripe. The water has hit 26 so more blues and blacks being caught.
Port Macquarie
Another catch up report from Brad Duggan from Thur 8th Feb (and I apologised to Brad as my spam filter caught this one and I've just found it – oops!)  Brad tells me that  PMGFC Boat Phillet fished on Thursday with first time marlin angler Nick Duggan on board. The day didn't disappoint for Nick going 4-4-3 on blacks (on 10kg).  Brad says that Nick was quite happy to call it a day at 2.30pm when the skipper and crew suggested they pull up stumps.