Updated 15 Feb: Following up from his great success at the Port of Gold last week, Anthony Dimech's Big Banana soured the day of every angler working yesterday with news of his mid week Grand Slam!!
Home at lunch (due to a couple of seasick crew members) with a 10-8-8, 5 black marlin, 2 striped marlin and one blue marlin all to first time anglers (well done Dennis!). You can't really get better than that. Photo montage from Anthony below used with thanks and big congrats!  Marlin valentine!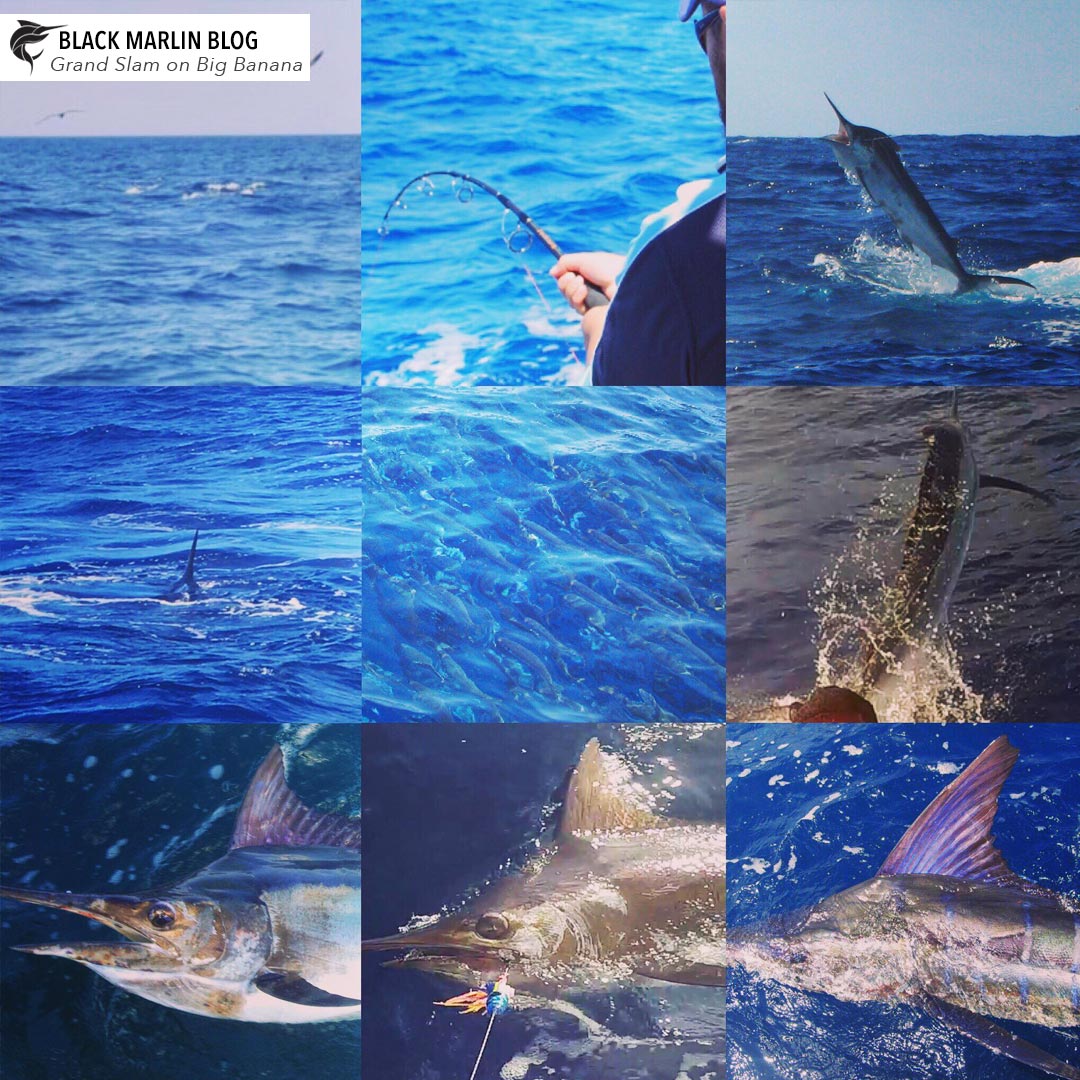 Speaking of Valentine's marlin, Paul Poulter tells me he did the honourable thing for wife Sharon on Valentine's Day and took her marlin fishing off Mooloolaba in a 20knot northerly! (lol)  15 mins after lines in she was hooked up to her first a stubborn 60lb fish that took an hour on the 8kg.  5 minutes after the tag was in she was hooked up again to a similar sized fish which was released 20 minutes later.  Headed in early to beat the forecast thunderstorms.  And Paul says Sharon even got to help him wash the boat. Happy day Sharon :-)
Updated 14 Feb with more hot fishing at Mallacoota at bottom of the report. Victoria is on fire!
Awesome action shots from Claire Jones / Split Second Photography of fishing at the Carpark at Port Stephens on Saturday above and below including shots of Paul Besoff's Offshore (Tournament Runner Up) hooked up and fighting. For more weekend results and the tournament wrap up, see yesterday's report here.
Port Stephens outside the comp
Great photos above and below from Claire fishing on Luke Maddern's Maddness on Saturday who went 5-5-4 (3 blacks and a whaler).  Also fishing outside the comp, Capt. Tim Dean's Calypso went 7-7-7 on Saturday on skip baits (on the new Calypsoi 47 O'Brien!).  On Sunday they backed up again with a 2-2-2.
Also on fire outside the comp, Tom and Chloe Laurence's Tomahawk who finished the weekend 7 from 9 (including 5 on Saturday, 2 on Sunday). Chloe said most of their fish were stripes with just the two blacks.
Anthony Dimech's Big Banana also had another great day Saturday with a 5-4-3 following up from his 5-5-5 earlier in the week (blacks and stripes!)
Victorian marlin double figures day
And in what is possibly a first double figure day for Victorian waters, Capt. Richie Abela's Dreamcatcher notched up yet another awesome day fishing off Mallacoota with a 14-13-10!
Richie says the fish included a successful triple header.  Previous few days they have been ticking away at the fish including a big stripe and their first Victorian black on Saturday.
Also on great fishing on Monday Luke Meli on Pheonix with Robbie Daniel on the wheel and Steven Clarke with Luke on deck for a 20-16-9. Luke says that all the fish were stripies in less than perfect conditions! (Photo at bottom!)