Updates 6 March: Some more reports to add to the already great double digits from below. Monday on the Sunshine Coast was a slower day overall but still good fishing. Pole Dancer tagged 4 and Chaos and Raising Havoc 3 each.
At Fraser Island yesterday Capt. Brett Alty's Mistress went 4 from4 made up of a double of black marlin (90 & 100kg) and two regulation blue marlin bringing their total to 140 for the 17/18 season so far!
More form Port over the weekend.  Joel Abercrombie fished Saturday at Port aboard Mike Bonnicis Sea Devil with Steve King and Brad Kearns and finished the day 12-10-10 being 6 stripes and 4 blacks.  Joel says that it was a crazy afternoon bite with most boats hooked up to fish. He also fished the Sunday with Garry Hyland aboard his boat Black Ice which was another slower day going 2 from 4 on stripe marlin. (Fantastic pics below!)
And another from Saturday Brent Harding on Makajiki who recorded a 8 from 10 striped marlin at the Carpark.  Brent told me last 4 fish were 2 double headers and they saw all the fish before eating. A very cool day on the water!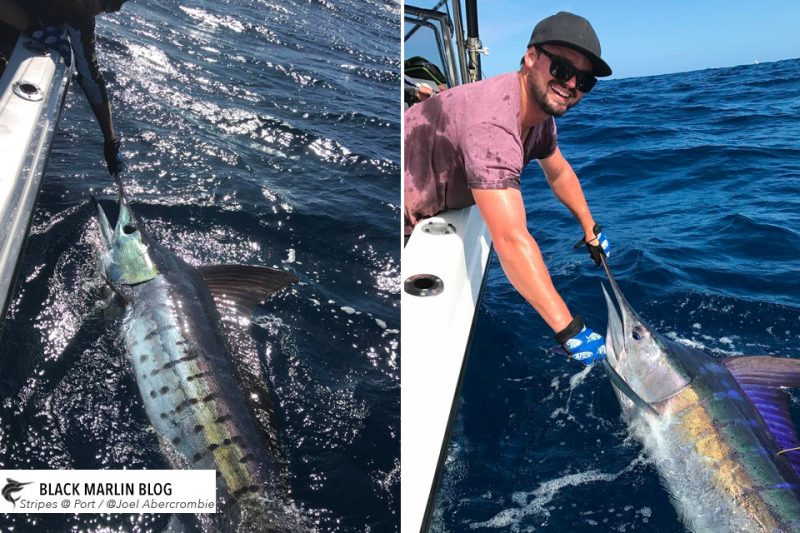 ---
Awesome fishing all the way along with double digit days recorded on the Sunshine Coast, Port Stephens and Bermagui over the weeken. Read on for the full recap Friday to Sunday!
Sunshine to Gold Coast
If you thought the fishing was hot in NSW, Sunshine Coast boats staked their claim to top fishing over the weekend with an especially hot Sunday.  For Sunshine Coast GFC, Craig McCulloch's Reel Capture who had Channon Arbuthnot and Grant Cooper on board and tagged 15 black marlin yesterday!  Not far behind, David McMaster's Pole Dancer who tagged 12 blacks!
Other club boats in on the action included Shearwater got 1 sailfish and 7 black marlin, all to Bryce Bartleson. Neville Martens tells me Bryce had an incredible 2 hr 10 minutes struggle with the sail on 8kg line to convert a very busy day for him! Athrill also tagged 5 as did Atlas (4 blacks and a sail).
Rob Smith's (Smithy's Fishing Charters) Capricorn was 3-2-1 Friday, 8-4-2 Saturday and about 12-6-2 yesterday with customers. Rob has uploaded a few quick videos here and here.
Mooloolaba GFC's boats also were in on the action. Jamie Behrens reporting TakkaChee went 5 from 6 while fellow club boat Reel Busy went 4 from 5. Jamie said likewise theirs were mostly 20-30kg black marlin with some big sailfish thrown in.
Saturday: Stephen Jolly reports from Newport GFC club boat R Ya Wet Yet who went 7-6-2 light tackle off the Sunshine Coast. On the Gold Coast, Ryan Goding's Mojo also had a top day with 5 from 5 being two sails and three blacks!
Friday: On the Sunshine Coast, Pole Dancer backed up with a better day with 5 fish! Als0 on Friday Sunny Coast GFC's Ben Massurit caught a new potential Queensland Small Fry Record on 4kg at 19.1kg. Congras Ben!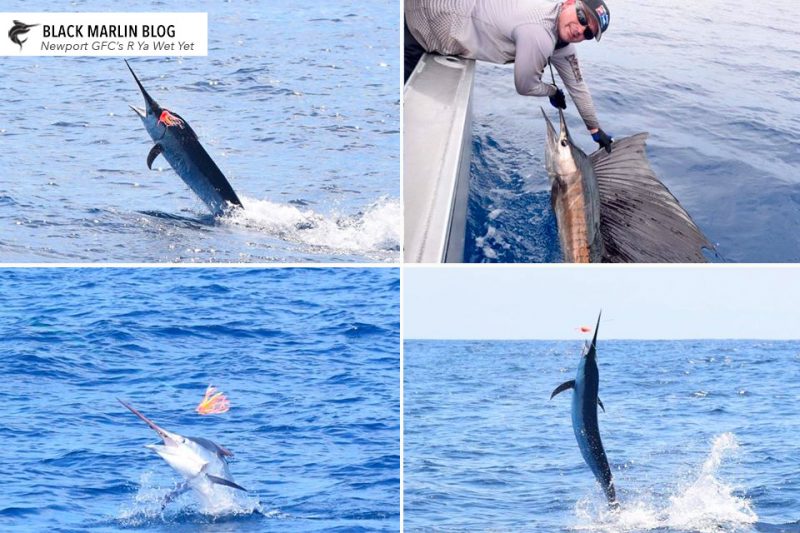 Port Stephens
Fly fishing Royal Slam: Tantrum Lures' Nick Durham reports from Port Stephens where he has just wrapped up four days fly fishing with Jeremy Block on the Mauna Kea with Capt. Brent James. Jeremy needed to catch a stripey and black marlin for his target of a Royal Slam inside 12 months. Over the four days they got teaser bites from nine marlin and casting the fly to six and converted a 150lb stripe on day one which was a great start. The black marlin proved a little more difficult with a nice little inshore black teased in beautifully only to have the fly eaten right under its nose by a wahoo which was caught.
Jeremy also cast at another black as well as a few stripes. Nick says that his highlight was raising a 200lb blue marlin on the last day which teased in and switched beautifully and was also successfully released! Jeremy will be targeting his black again next month!
Saturday: Some crazy good reports have already come though. Anthony Dimech's big season on the Big Banana continues with a double digit day going 10 from 13 – 8 stripes and 2 blacks.
Luke Maddern's Maddness also cracked double figures for the day with 10 from 12 (7 stripes, 3 blacks) in a first for the boat. Luke says he couldn't have done it without team superstar! Nick Vella, Johnno and Henry Vella who popped his hamstring tagging a fish earlier in the day and came crawling out of the cabin when fish number 10 was hooked up. When told to stay on the lounge retorted no way was he missing out on number 10!!
And the beautiful photo below from Claire Jones who had the family day on Head Hunter with skipper Mick Kennedy recording a black and stripe for Bev Kennedy (photo), and a second decent black lost at the boat with the swivel at the rod tip after 2 hours on 10 for Claire! First marlins for the new boat!!
Friday: Some really hot fishing continues with reports from Friday leading into the weekend. At Port Stephens, Capt. Tim Dean's Calypso has released 26 in 4 days of fishing. 5 blues,
3 blacks and 18 stripes. Tim says that fishing is as good as it's ever been. And there has been some rough weather fishing this week too. Two days of very ordinary weather but the fish still bit well and some very happy customers!


Bermagui
And Bermagui is firing again also! Cassar Fishing Guides' Chris Cassar went 14-14-10 off Bermi in his boat Green Hornet. Chris followed up Saturday with another 5-4-3.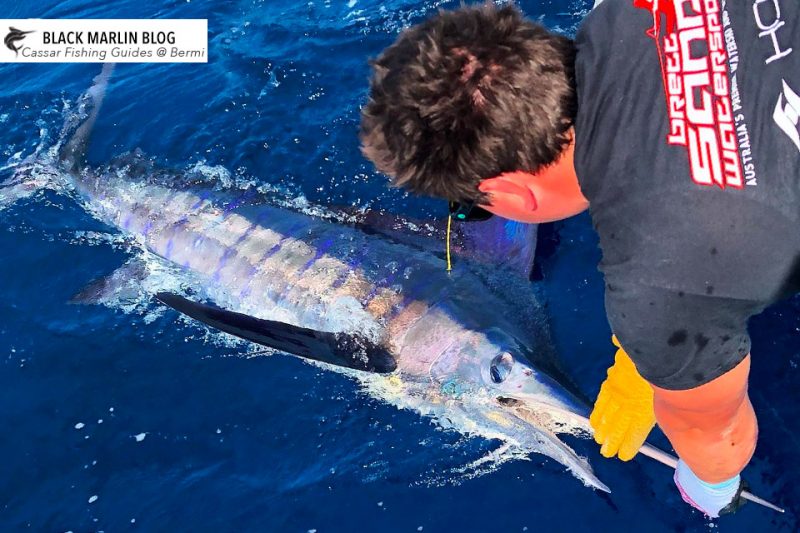 And more
And Paul Johnston sent me report of a sailfish off Forster on his boat Coyote for John Ford on Saturday. Paul said that the water was only 22.4 degrees but they saw 2 fish tailing down sea and pitched a bait in front of them and came up solid. A bucket list fish for John!