Updated: ***HOT OFF THE PRESS*** 14 March/18
Scotty on Freedom ended the day with 15 tags (14 blacks and 1 stripe)  and Capt. Tim Dean on Calypso with 13 (12 blacks, 1 stripe).
Port of Gold (Port Stephens) bite is on again hot hot hot! After a big day of 12 from 15 yesterday, Capt. Scotty Thorrington/Haven Charters Terrigal nearing the end of another big day with another 14 on the board already today. Scotty says the fish are mostly blacks with the odd stripe and that the water is glamour and 24degrees and holding fish all the way from Seal Rocks to Newcastle. They are also catching some bonus other species including a wahoo yesterday and big dolly today.
Nearby Capt. Tim Dean's Calypso was fighting number 13 for the day when we spoke!
Photo Gallery: Fantastic photos from Edward Aspden on the 34 O'Brien Malekula  who fished out of Broken Bay Sunday/Monday encountering blues in good number. They went 11-10-8 on lures — 4-4-4 Sunday and 7-6-4 Monday in perfect conditions!  Thank you so much to Edward for sharing these awesome pics!
---
Previously:
Three more double-digit day reports from the east coast today – truly world class fishing!
Jervis Bay fires!
The internet lit up on the weekend as word spread of Guy Jamieson and Matt Wall's day off JB on Saturday on Matt's Predator Double D. With only the two on board they scored a very impressive 19-19-17!  Guy tells me that they raised 18 blacks and 1 stripe with the stripe unfortunately on of the two lost so it was a total of 17 blacks to the boat.
Congratulations to you both on a day that won't be forgotten in a hurry! Photos at top with a full recount of the day to come in Bluewater mag!
Bermi bite continues
The bite off Bermi continues with Chris Cassar's Green Hornet recording his second double digit day of the season yesterday with a 10 from 12 striped marlin. Chris said to top it all off, they didn't start fishing until 1pm after being fortunately called out after planning to take the day off!  That's 15 from 17 for them in the past three days of fishing! Some photos from the last few days below!
Indeed the fishing off Bermi has been great of late. Head Hunter's Nathan Brown reports they have likewise been chipping away at them quite nicely all season but that it's really kicked into gear over the last couple of weeks with him averaging just over 5 a day with a couple of 8 fish days among them. It's great fishing with the majority of the angler on their first trip marlin fishing!
Nathan agrees that it is still looking very good at the moment with heaps of fish out there yesterday, probably the most he's seen in a day! And still plenty of time left in the season so fingers crossed it continues!
Gold Coast blacks
When you've got a day of fishing ahead and hoping for your first black marlin you probably wouldn't believe that you would be heading home with not only your first ever black marlin, but 11 more after that! But that's what happened yesterday for solo angler Jim with 12 from 16 blacks on board with Capt. Glanville Heydenrych on Mufasa!
Glanville told me its  they had a pretty wild forecast as it has been blowing 20-30knts for a while and hence they haven't had the opportunity to target the blacks in a while either. So they put some lures in at 50m to have a look and got one straight away. This fish had another one swimming with it so they put the lures straight back in and jumped another off and found a nice ball of bait and from then, the game was on!  Glanville said their big problem for the day was that they couldn't catch enough bait between all the marlin, mac tuna and wahoo bite. They also hooked 3 marlin on bait jigs and had another literally crash tackle a bait jig whilst they were lifting it into the boat and hit the boat so hard he thought its bill would be stuck in the hull!
A busy day with the ocean still pretty wild. Glanville thinks Jim might be addicted now after such great day and not one other boat anywhere to be seen!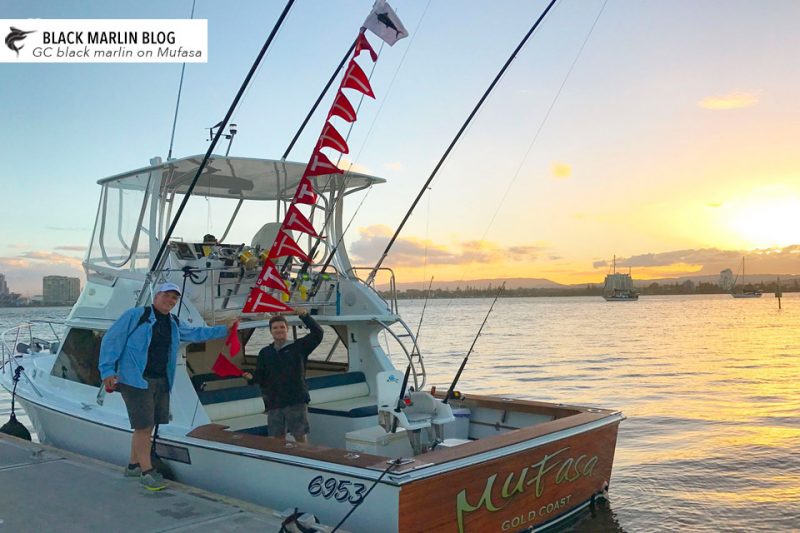 Newcastle Classic Results
Congrats to the team on Sydney GFC's Reel Diamond who took out the classic held over the weekend with 11 tags (6 black marlin and 5 striped marlin) tags.  Overall 109 marlin were tagged made up of 65 black marlin, 36 striped marlin and 8 blue marlin.