Updated: More sails in the west with Capt. Chad Mill's Blue Lightning tagging 12 in a day of fishing last week at the Abrolhos Islands!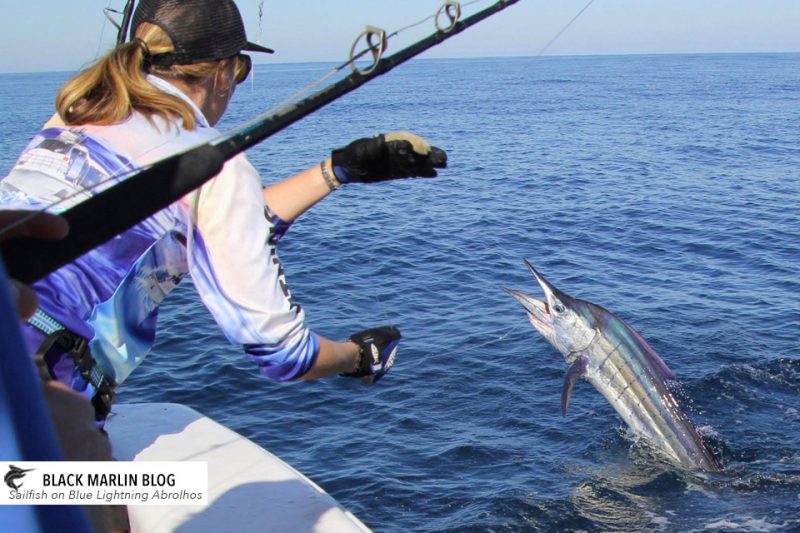 North Queensland: The light tackle season in North Queensland has been suffering due to prolonged bad weather but a few were able to take advantage of a short window over the weekend.
Capt. Ross Finlayson's Bounty Hunter found the sails going three from four. While Paul and Sharon Poulter's Think Big tagged the little black at top. Paul tells me that they didn't see much in the morning apart from a small scattering of bait. But had the bite with the turn of the tide when the wind also picked up to 20-25 and the sea getting a bit rugged. After the fish they called it a day and headed home.
Good to see both around in the leadup to the Cairns Bluewater GFC Billfish Tournament August 15-18.
Off Townsville, Mick Dykstra's Reel Crazy also released a sail. Townsville GFC's Billfish Challenge is conveniently also 15-18 August!
Vanuatu Fires!
Some world class fishing over the last week in Vanuatu has many paying attention! Capt. Russ Housby's Nambas Sport Fishing released 10 from 12 in three days of fishing including a 6 from 6 on Wednesday (5 blues and a stripe). Russ and his team are now on 36 blues and 2 stripes in the last three weeks fishing only a few miles from the Harbour Kona style!
Update: Russ tells me that they are now 38 from 49 bites –36 blues and two stripes. In that run they've caught 3 doubleheaders and a triple header. The best days were 7, 6 and 5 respectively and everything has been caught lure fishing!