Lucinda Billfish Comp
Slightly delayed report from the Ingham Rod & Reel Club hosted Light Tackle comp held on the 21st  and 22nd of July.
13 boats braved a rough forecast for the Malcolm Florence Memorial comp with a few finding action straight away on Saturday but failing to convert. Mile High with a 3-2-0 and Investergator a 2-2-0 on the sked with the only marlin tagged on the first day from the 'old firm', the Mathieson's, Rod and Ben with Brendon Dawson on Game Changer.
The second day was even rougher with many boats searching for billfish in close around the Palms. In the end, 3 marlin were tagged with the team on board Electrakushen managing 2 to take the honors. Runners up were Game Changer with a special mention to the Travers boys, Jack n Will who in the Sharkies Division in the TGFC showed many of the grownups how to do it, with Jack taking out Champ Junior as well as Heaviest Gamefish with a yellowfin tuna at 7.5 kgs.
Bigger and better for next year with a big thanks to all sponsors and competitors in making this small boat friendly comp another success!
Peter "Mutta" Mamino tells me that while the bait has been hard to find the fish have been there since as well with him converting another 2 blacks and a sail this weekend gone.
Weipa ramping up
Ahead of their big annual comp at the end of September its great to more reports starting to come in. Ben "Notso" Bright tells me that its all started a bit earlier than usual this year thanks to some good weather (finally).
Talented junior angler Emmi Roberts tagged the first sailfish mid July fishing with mum and dad aboard Striper.
As the weather continued to hold, Ben on Last Cast and Get 'N Any got out there, and although reporting plenty of water between the fish, there were several more sailfish tagged along with a 200lb black marlin fought for 3 hours into the dark, being too good for Ben on 10kg.
Bait seemed to be moving around quite a lot however whenever it was found, the fish were there with it.
Get N Any finished with 5-4-4 sails in two days as well as raising a couple of sizeable black marlin that wouldn't eat.
Last Cast finishiedup with 5-3-1 for the 3 days and saw some a cool bait ball being harassed by a pod of less than hungry sails!
Thanks Ben for the report and pic :-)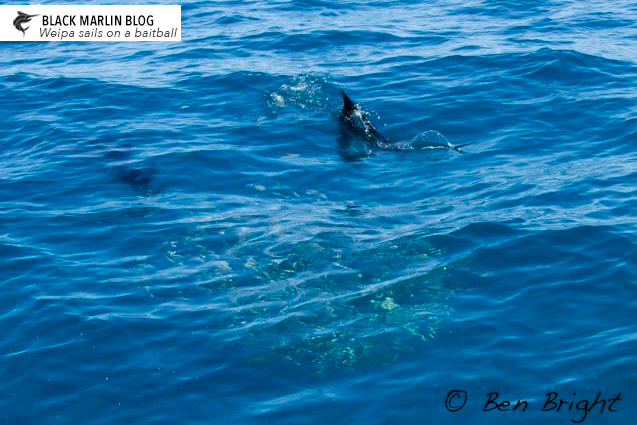 Broome Billfish Classic
17 teams comprising of 61 anglers including visiting teams from Queensland, Tasmania and Perth competed with the final stats an outstanding:
Sailfish = 672 raised, 516 strikes, 395 hookups and 347 captures.
Marlin = 40 raised, 26 strikes, 13 hookups and 8 captures.
The last 10 years of tournament stats for comparison (from my records!)
Sails
Raised
Sail
Tags
Marlin
Raised
Marlin
Tags
Total
Boats
2008
404
88
not avail
not avail
88
2009
1136
335
41
14
349
21
2010
351
105
53
23
128
19
2011
564
224
71
13
237
18
2012
589
210
50
12
222
2013
2014
381
131
65
14
145
16
2015
571
196
63
12
208
22
2016
15
2017
581
218
106
36
352
10
2018
672
347
40
8
355
17