Another update from Monday on Capt. Mark Parkinson's Black Label who went 1 from 3 with this one (pic below).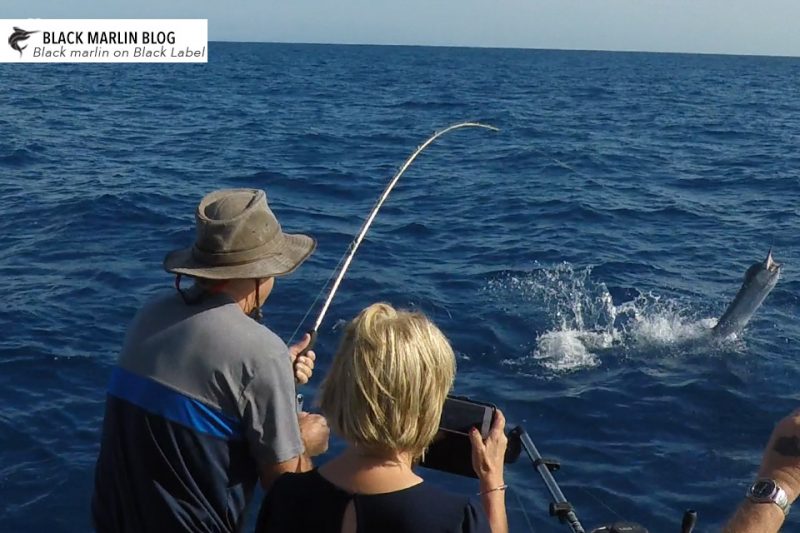 Updated for Monday fishing:  Report from Jason on Marlin Brando who went 1-1-1 out past Fitzroy with a feisty fella.  Jason said it took nearly 30 minutes to get him in, lots of big leaps followed by a long time down deep. and the biggest "little" black he's ever caught – almost big enough to be out with his mates at Linden Bank!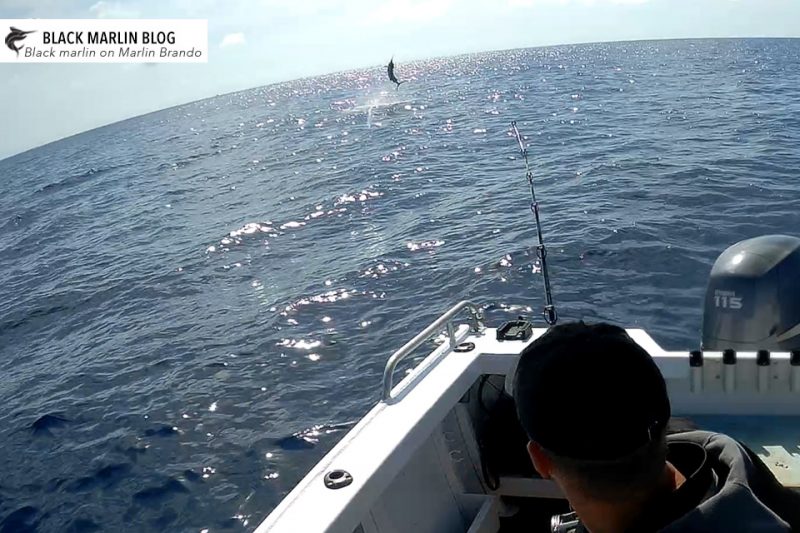 Firstly hot fishing outside the comp Ryan Tivey and mates including girlfriend Robyn on Hook In. Ryan reports pretty hot fishing on Saturday ending up 5-5-5 including a double header.  Ryan says he's looking forward to the Fitzroy Comp and might just have put a big target on his back now :D
They've extended the nomination date for the tournament so get in fast!
Also outside the comp fishing the Whitsundays Ross Martin and Ash Warland on Ash's 5m Goodwin a sail estimated at 25kg.
Yorkey's Knob Light Tackle Slam
Congrats to Paul and Sharon Poulter's Think Big who took out the comp on the weekend with two blacks in what was some tough fishing with only 6 billfish tags overall, Sharon also taking out Champion Female. Junior Tait Missen fishing with Dad Tam and Jason and Katie Legg on Tam's boat Sailfish put his team into the runners up position and took home Champion Junior with the one black. In the small boat category Lethal took the Champion trophy with runner up going to Buda Bing.
Thanks to both Jason and Tam for the reports and Jason for the full list of winners! Congrats to all!
Results
Champion Boat over 7.5 metres, Think Big
Champion Boat under 7.5 m, Lethal
Champion Male Lee Lethal
Champion Female Sharon Poulter c
Champion Junior Angler Tait Missen
Runner Up Champion Boat Over 7.5m Sailfish
Runner Up Champion Boat Under 7.5m Bada Bing
Runner Up Male Rick Burdett
Runner Up Female Kimberley Watson
Runner Up Junior Cooper Nykbist
Day 1- 20 strikes 7 hookups 3 tags
Day 2- 26 strikes 10 hookups 3 tags
Townsville
TGFC's Jack Nicolosi sent me this pic of of little black marlin they caught on Zuri on Sunday inside Juno Bay in the Palms in just 18m of water!
SEQ Blue
Jamie Behrens on deck with Capt. Russell Caphorn on Kaizen Sunday off Mooloolaba went 1 from 1 blue marlin est 120kg. Jamie said the water was nice colour with the temp around 21.8 degrees c.