Updated Tuesday: Blue Lightning's Reely Black has had a few awesome days on the sails this past week at the Montebellows with 66 sailfish and 1 marlin for 3 and half days.
Day 1 18
Day 2 19
Day 3 half day 9
Day 4 20 sailfish 1 marlin
From Leah Mills who has been on crew again this season: Leah says "There's nothing I love more than being part of a team, and being chads Decky on Reely Black was the ultimate for me. Leadering over 25 billfish in 1 and half days is a new record for me personally, and one I'll never forget. The bruises are were well worth it and even a sailfish bill hitting my shoulder( I was very lucky)! The adrenaline doesn't get any better, especially when you see the smiles on customers faces."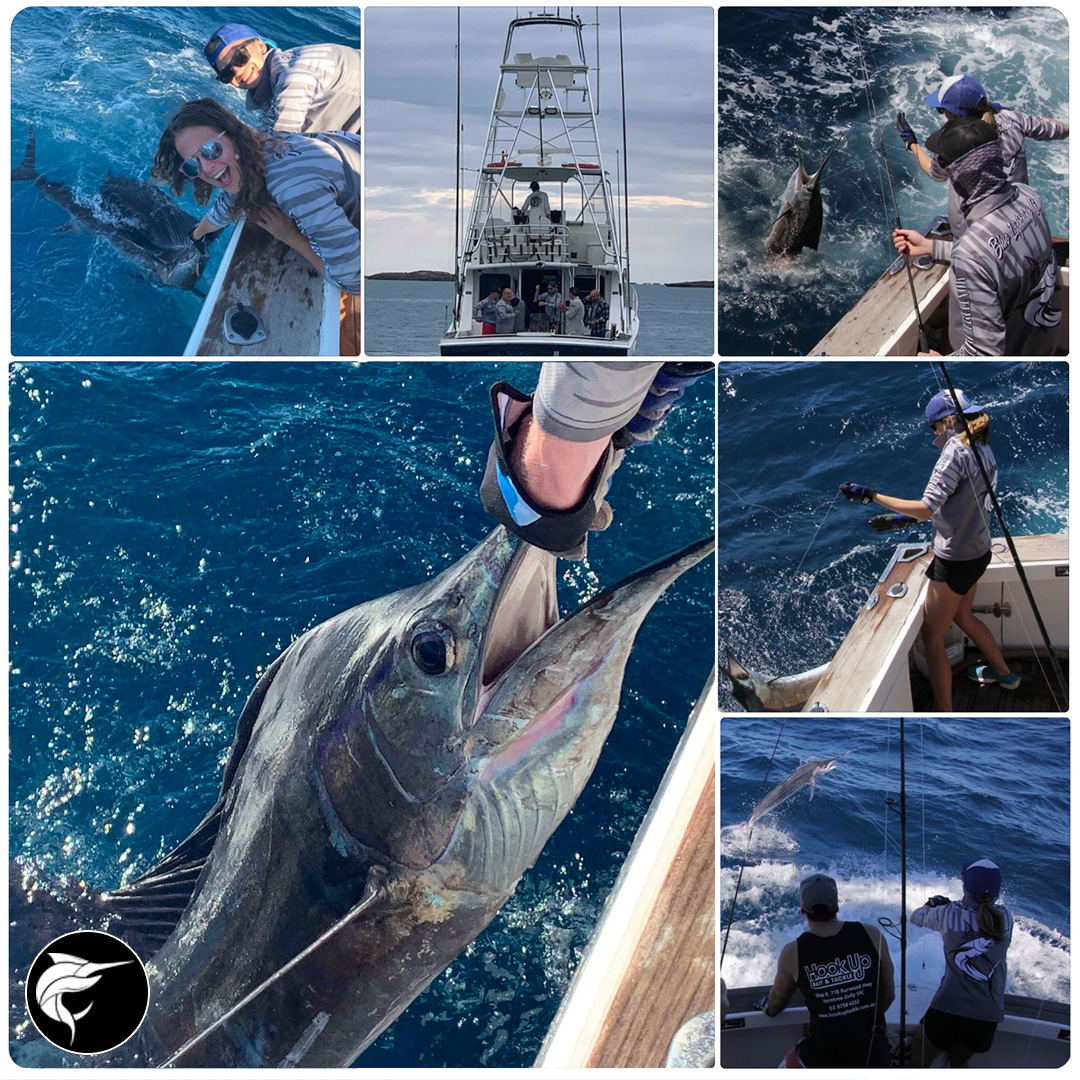 —
A big week for billies across Queensland mostly of the sailfish kind. And the North Queensland light tackle tournament season continues this week with the Townsville Billfish Challenge kicking off on Wednesday running out of Magnetic Island. And just a week longer for the Cairns Bluewater Light Tackle Billfish Tournament 28-31st August (next week).
But once again its the sails that have been dominating reports!
Weipa, FNQ
After a weather enforced break Weipa Billfish Club Boats have been back into the sailfish action over the last few days with the odd marlin again as well.
Duane Jay fished solo Friday on his boat Get N Any for a 14-8-6. On Saturday he was joined by the boys from True Blue out of Aurukun tagged 8 while DJ better his Friday result with another 9 solo. Outta Beer was 20202, Quintin Small was 4 sails and a 50kg black and Floating Pioneer 2 from 4 in 1.5 hours of fishing.
Nathan Billing was on the fly rod for 2 sails and a 50kg black. While Ben on Last Cast had a late start for 1 from 3 on fly and 1 from 2 conventionaly solo.
Sunday DJ was joined by Renee and Lewie on Get N Any for 6 sails and a 60kg black, Mark and Nathan on Who's Your Daddy went 2 from 9 and the Argent family's Gale Force tagged 4.
Townsville, NQ
Incognito pre-fished for a 2-2-1 while Shindig raised a smaller and bigger model.
Fraser Island, SEQ
Capt. Luke Fallon's KEKOA returned to Fraser Island over the weekend from her annual on the hard on the Gold Coast with the Fraser Island waters producing yet again, notching up 1 blue marlin, 3 black marlin and 3 sails.