A great way to start a new trip is with a big fish and this happened for the team on board Capt. Casey Dent's Zulu yesterday with angler Craig releasing this fish on the first day of a 7 day trip. Congrats Craig! Photos at top and below.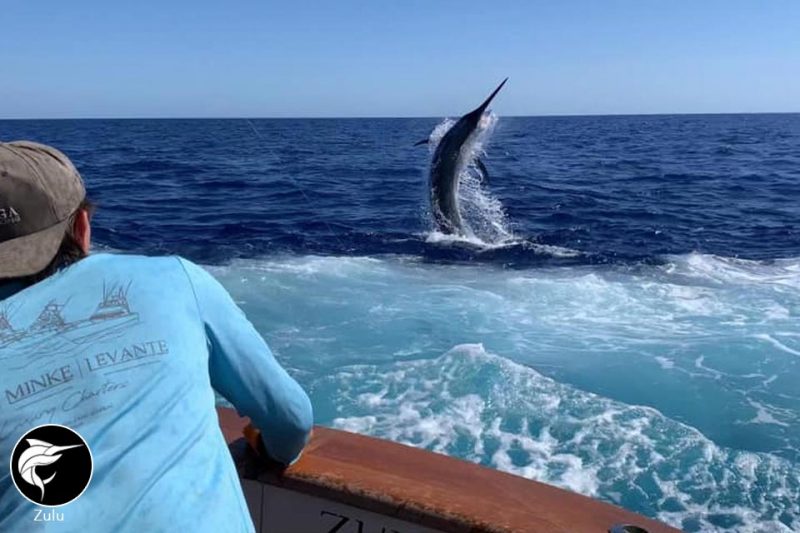 Capt. Haydon Bell's Release has also been enjoying some great fishing and big fish. This trip he did one five fish day and yesterday caught a nice one for German angler Alfred.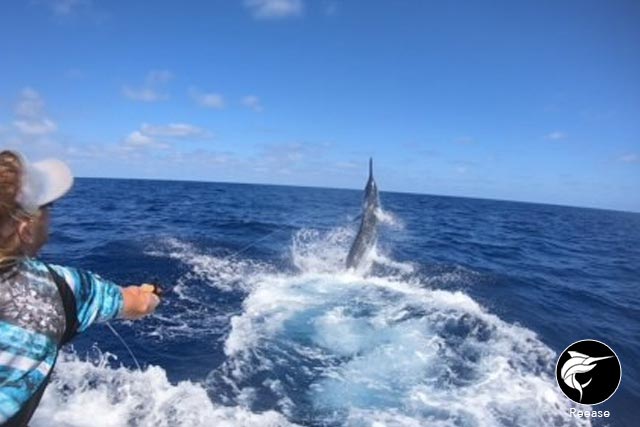 Capt. Scotty Thorrington on Gorilla and part of the Dreamin' On Big Show released a fish they put at 800lbs.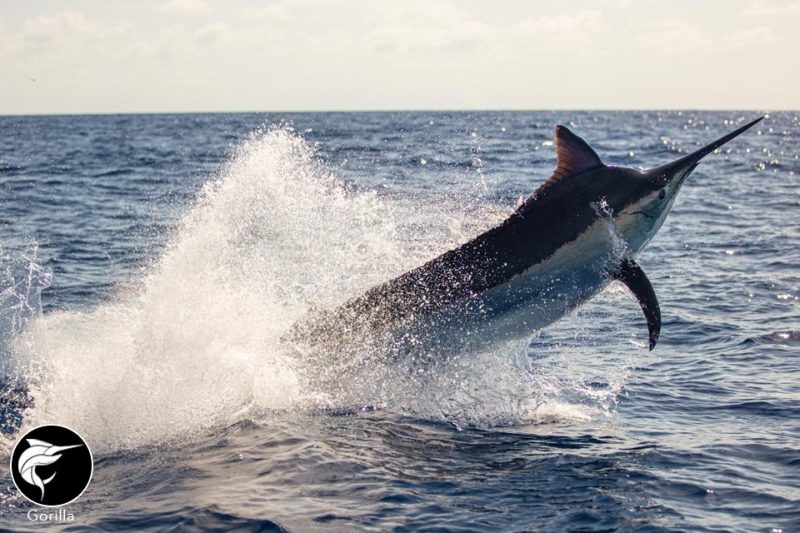 Persistence paid off for Gina Cleaver with skipper Trent Killmore in trailer boat Ofishal at Linden Bank. Gina reports they spent the last 2 days feeling rather deflated not raising a single fish and watching all the boats around them hook up but persistence paid off yesterday with a fish they estimated at 400lbs for Gina.  Good to hear the trailer boats getting among them as always!
And Capt. Tim Richardson on Tradition continues his good run with another 1 from 2 yesterday.
Montebello Black & Blues (and stripes)
Over off the Montebellos the good run continues on board Capt. Chad Mills Blue Lightning Charters again as well.
On Saturday Capt Chad decided to go back towards his honey hole and by 3pm they were hooked up Carmen releasing a blue. Next up Darryl also released his first blue in WA's waters. 3-3-2 on blues.
Graham also released a stripe from a pack attach of stripies whacking the lures around – what a sight to see! Only one staying connected Graham releasing a stripe marlin.
They also had the late bite unfortunately no success as she did not want to have sunset photos!
Sunday Carmen released a small black early in the day but it was the late bite with the fish doing no jumps, but peeling off a lot of line that got the hearts pumping. They knew it was a good fish and Graham showed his game chair prowess when they finally got her boat side they knew she was a good one. A black they estimated at 350kg (close to 800lbs).
They also missed a solid blue that did lots of jumps but came undone and checks showed she snapped the hook!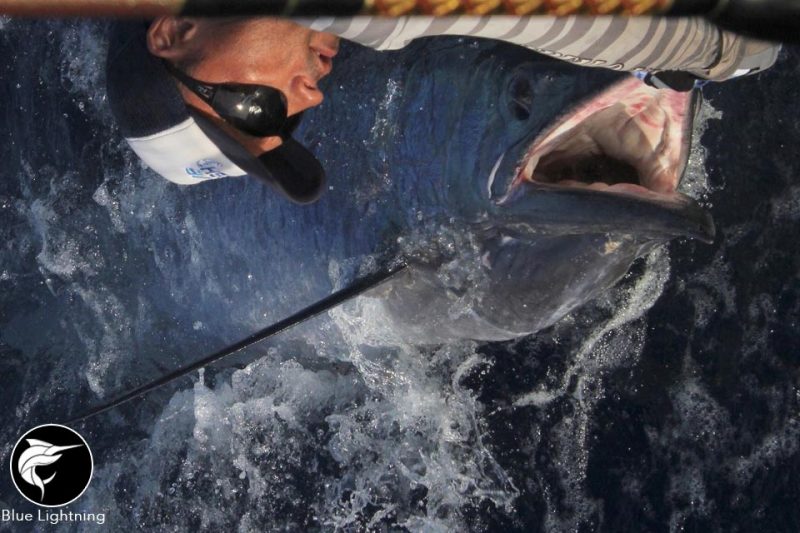 Townsville – Myrmidon
Townsville GFC Club Boats fished their heavy tackle weekend at Myrmidon. Incognito we went 3 from 4 tagged fish with the fourth jumping off on the leader, all smaller fish up to 300lb.
Zuri also tagged 2 on Saturday of similar size and had a bite from a 'nicer one'. Elderado also tagged a 200lb model on Sunday for 11year old Maggie Mitchell, an awesome effort on 80lb stand up. Trailer boat Nautical Blue tagged 1 from 3, fishing inside closer to the reefs.