Outside of Cairns there's also plenty of good fishing happening.
WA
Over in the west, Blue Lightning Charters are into the blues at the Montebello Islands. Fishing with Carmen and Graham McCloy of Game & Leisure Boats they went 6-5-3 blues on the first day. Within 20mins of lures going in Graham was hooked up to a blue marlin. By 1.30pm they had 3. They also raised anther window shopper and had another 2 hook ups by late afternoon but unfortunately they weren't meant to be.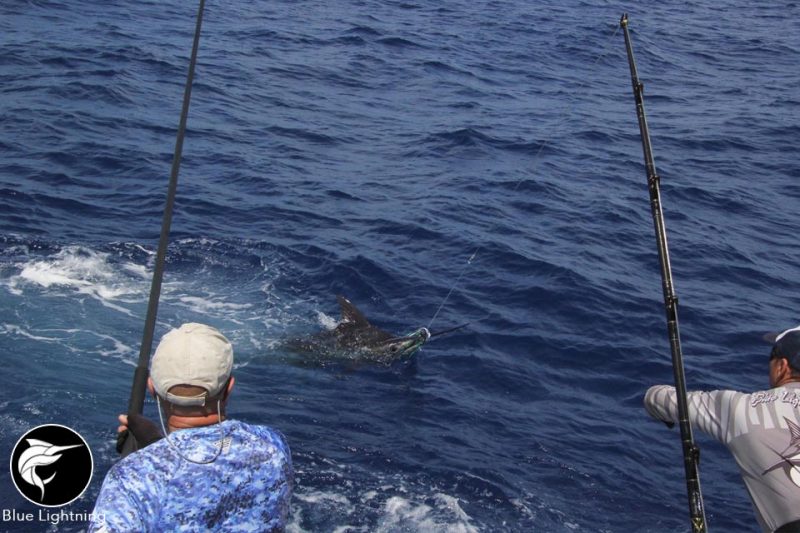 There is also some great sailfishing happening again at Exmouth with Capt. Eddy Lawler's Peak Sport Fishing posting some great numbers over the last few days including 8-7-7 yesterday and 5 from 9 earlier in the week. There are also blues and blacks in the mix with 1 from 1 blacks and 0 from 1 blues on Friday.
SEQ
And Jamie Behrens fished heavy tackle off Mooloolaba on his boat Takkachee with son Michael and mate Gary Housley yesterday and weent 2 from 2 on blue marlin. One for Gary and one for Jamie. Water temp was 22.8 degrees.
Cairns
Traditions Capt. Tim Richardson reports that Ken is back after being away from the GBR the last 7 years. After catching 2 on Day 2 and one Friday they had a great day yesterday with three including fish at 150, 500 and 850/900lbs. Tim said they are having the most amazing time and being spoiled on the Beluga mothership! Capt. Brett Goetze's Amokura also went 2 from 4.