Sea Fever's Capt. Ashley Matthews on Reel Easy wrapped up his four day trip with 79 year old angler Ian from the UK yesterday on another high releasing a fish that Ashley put at 750lbs with just moments to go before heading in. In case you haven't seen the previous report its been a cracker start to the season for Ashley with 8 fish in four days also releasing a 400lb-er Wednesday and one at 250lbs Tuesday after his great number day Monday with five including one Ash put at 900lbs!
Also enjoying a big fish day yesterday and once again proving that #nickisnotajinx (in joke there – we have the wonderful Nick Jones on board our member boats in the Cairns Professional Game Fishing fleet filming for us this season) Capt. Tim Richardson's Tradition released a real nice one he put at 900lbs for first time black marlin angler Rob, also from England. I'm told the fish put on a great show for the camera and this is one still (at top) that Nick has pulled from the footage. This will be a must see when the doco is finished!
Another great day yesterday also for Topwater Sport Fishing's Capt. Jason Legg aboard his new charge the 36 Blackwatch Black Ops. They released this nice one and pulled the hooks on another of similar size.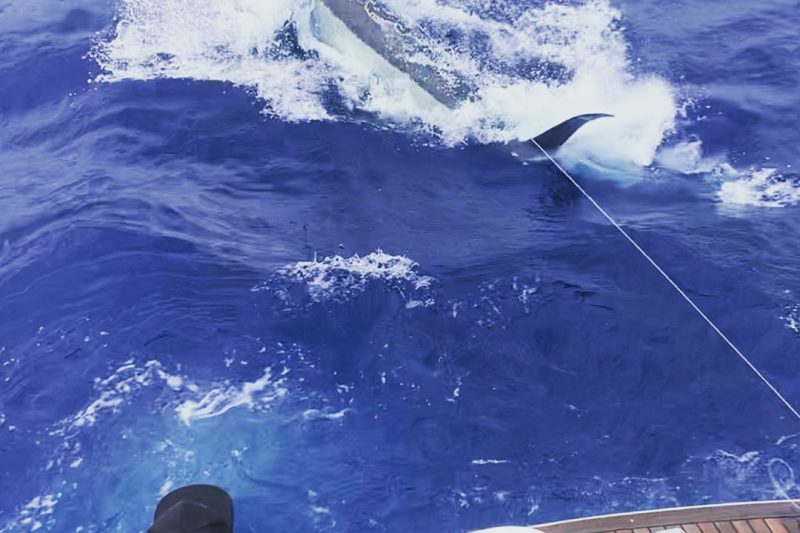 Capt. Brett Goetze's Amokura also had a top day releasing two fish including one at 800lbs. And Capt. Adam Jordan's Iona II who is fresh back from vacation was straight back into it with one at 500lbs and lost a big one!
Montebello Islands
Monday was another action packed day on Carmen and Graham McCloy with the Blue Lightning team at the Montebello Islands. By lunch Carmen had released anther blue around 130kg with another lost. But once again they had the late bite hookup on a big fish for Graham. Unfortunately it wasn't to be a repeat of the estimated 800lb black from the previous days with Graham feeling the hook pull and while he was winding the lure back in a mako jumped on for an aerobatic display!