Updated: Catch up report from Capt. Jason Hedges' Unleashed Sport Fishing who is just finishing tidying up after a big week on charters. Some awesome fishing going 6-6-6 on blacks on Sunday. On Saturday they were 2-2-1 blue marlin for guests Rambo, Paul and Maddy. Jason said it was a solid effort for 14 year old Madeleine tagging her first billfish and then jumping straight on to the next fish to get her second one for the day.
Their stats for fishing last week were 12-10-6 blue marlin and 9-8-7 black marlin putting 5 guests onto their first billfish. As Jason says its awesome to see the fishing firing on the Gold Coast and hopefully the fishing continues to fire into the New Year!
At Hervey Bay/Fraser Island, Hervey Bay Sport Fishing and Fly's Andrew Chorley reports that the blacks are still being caught on the inside of the island. Here's one from Friday with guide Pete Fry. The fish was estimated at 55kg based on length!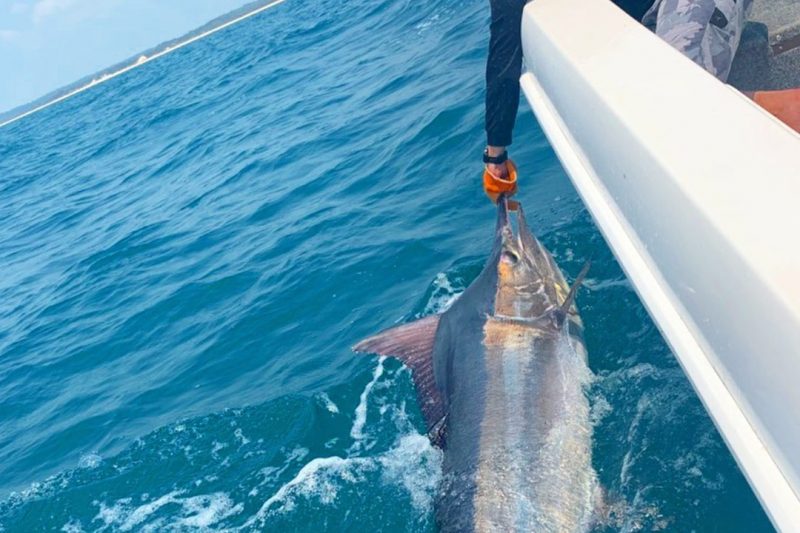 —
Blue marlin fever once again off the Sunshine Coast. Mick Scott's Reel Crazy enjoyed some hot fishing on Thursday. Two bue marlin virgins Jason and Beau caught their first two blues each in a 4 from 6 result. Tomo Dale on the leader in the photos below!
They followed up again yesterday with an even hotter 5 from 8 blue marlin all switchbaiting!
On Saturday Mooloolaba GFC Jamie Behrens fished heavy tackle with his two boys off Mooloolaba on TakkaChee going 6-6-3. Jamie reports that Michael tagged a blue and his first striped marlin while Mitchell tagged his first blue marlin. He said the weather was great up until about 1.00pm  and the water was 25.4 degrees and blue and he was marking fish on bait.
On the Gold Coast tougher fishing with Capt. Ross McCubbin's Lucky Strike went 3-2-1 with a small blue for Ben his first blue marlin.
Over in the west, Blue Lightning Charters wrapped up their Montebello Islands charter season for 2019 with a grand total of 233 sailfish and marlin in only 46 days of billfishing!
Meanwhile off Exmouth, Capt. Eddie Lawler's Peak Sport Fishing has been hosting fly fisherman Jeremy Block who has been posting some significant blue marlin catches on fly including a pending Australia Record Blue Marlin on 20lb IGFA tippet in a three blue marlin day on Friday. On Monday he released a blue and a stripe.