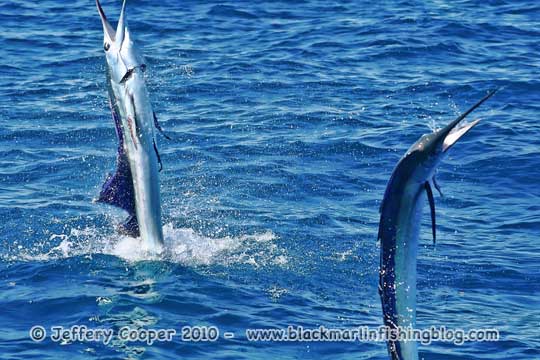 Broome is firing again!  Jeff Cooper joined the guys on board Billistic Sunday to get some photos of the Woodside funded tagging program in operation.  And, they got right in the middle of the action with another double digit day, finding a huge mass of sails just north of the peanut. Multiple hook ups were the norm with pods of up to 9 sails marauding the teasers and running amok. Above is a pic of the chaos (great shot Jeff!). And the weather was great too!
Word from Capt. Dean Beech on Castille III, who straight-lined through Cape Bowling Green to Townsville after three days fishing from Hamilton Island, raising two blacks on the way in.  With strong hints that TGFC are going to call their postponed Billfish Bonanza for this weekend, we look forward to more reports.  (I'm not even going to mention the 'w' word for fear of jinxing it!)

On the Gold Coast, the water is warming up (23-24 degrees), but there are still blue marlin to be had.  On Sunday Barco release an estimated 400lb blue in 390 metres.
Congrats to all the participants in the 51st HIBT in Kona last week. The Aussies did good with the GFC of South Australia coming in 6th overall and the Aussie Invaders 8th.   Check out HIBT Fishing for full results.