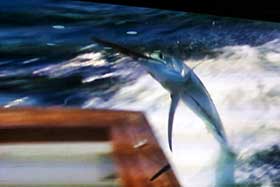 Simon sent this photo of their little guy on Dreamin' On on Saturday trying to jump into the boat.
On Sunday, Capt. Ian "Wobbles" Ford and the team on Hot Shot began their heavy tackle season with a 600lb-er at the bottom of the bank.  Calypso added another couple of small fish to their tally and there were a few more bites around mostly from smaller fish.
Sunday was also the final day of the Innisfail Billfish Tournament and a much slower day than the previous two.  Only the one sail was tagged by Peter Friel on Jimmy who also snuck from behind to grab the gong as Champion Overall Boat with 2 sails and gamefish weighed  ahead of Moana III and Askari also on two sails each with gamefish.  In the end five boats finished with 2 sails tagged each–a total of 16 sailfish for the three days and 80 gamefish weighed. (Update: A very reliable birdy tells me that Jimmy actually was champion boat in the small boat category and Moana and Askari place first and second in the big boats section.)
Champion Male Angler was Peter Friel on Jimmy, Champion Female went to Caz Martin and Champion Junior to (the other;-) Michael Bolton.  Congrats to all, and to the Innisfail GFC who have put on another great competition!