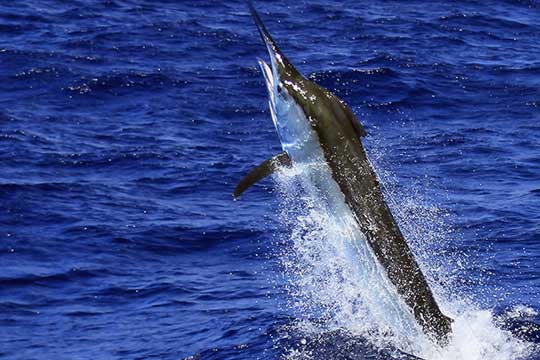 Caption: Christening the new KEKOA with a nice fish on the first day of our heavy tackle season 2010.
A few more of the fleet started their season yesterday including ourselves on KEKOA as well as Askari who, fresh from their third place at Innisfail Sunday, made it to Cairns overnight and resupplied to join us on the Bank in the afternoon.
Our angler Adrian has come to Cairns to chase his dream of a big marlin.  And he found her on Day 1 with the 850lb-er giving him a tough, almost 2 hour fight.  Adrian spent the rest of the afternoon recuperating but assures us he's ready to get another today.  Alongside we saw Capt. Tim Dean on Calypso go for his second from two at 200lbs (click to enlarge pictures below) capping off another successful early season trip with 4 in two days.
Big ship Little Audrey also arrived in Cairns yesterday and spent a couple of hours in the vicinity of Houston Light bait fishing also releasing one Capt. Dan put at 120lbs.