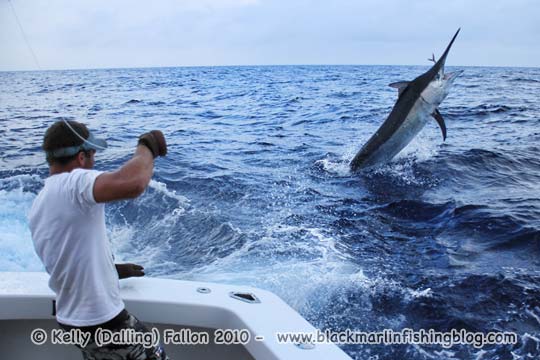 Ben on the leader for another nice fish for Adrian on board KEKOA.
Tradition started their 2010 campaign out of Cooktown Tuesday heading north towards the rock with Lester and Liz from New York on board.  Enjoying the calm 10 knots, Tim reports the fish cooperated as well as they went two from four with a real nice 750lb-er for Lester and tough 300lb-er for Liz a little later. A great start.  Late addition – At Escape Reef, Capt. Trent Vischer on Iona released two as well including a great fish Trent called 950lb (mobile photo at bottom – click to enlarge).
Further south at Linden Bank, it was a much quieter day with boats reporting very few seen. On board KEKOA we were lucky to hook both fish we raised for the day starting with a nice little guy for 12 year old junior angler Blake, who quickly brought in and released his very first marlin.  Later, dad Adrian put the lesson he learned in his big fight yesterday to use with a nice 600lb black (photo).
Phantom returned to port after their first four day trip and raised 7, hooked 3 and tagged a healthy 450lb black and 500lb whaler. They also had a ball reef fishing and Daniel managed to land a bat fish behind the reef on 6kg mono.
It was also nice to see Capt. Jim (Dalling) back on the reef with a camo appearance at the wheel of Amokura.  South Australian's Jimmy and son Nathan are back with Capt. Jim this week and heading north today.
We also had a quick note from Capt. Tom Francis on Ultimate Lady fishing across the ocean off Tahiti.  They are fishing the northern most island in the Marquesas where the are tuna and wahoo everywhere but the marlin fishing has been tough.  In the last week they've rasied 6 blue marlin to 500lbs, with 3 bites and just the one release at 450lb.
And also to note, the Mission Beach Annual Challenge tournament has been postponed to the following weekend (Oct 8, 9, 10) due to the rough weather expected this weekend.