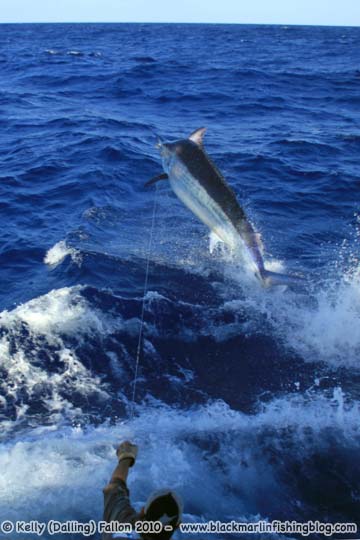 Caption: Dingo on the leader of Rob's 800lb-er on KEKOA on Satuday.
Sporadic reports from up and down the reef Saturday.  Amokura added another good fish to their trip's tally with a 700lb-er for Daniel at the southern end.  I make that 6 in 5 days including a 700 and 750 – great end result guys!  In the middle, Capt. Tim on Tradition started a new trip with a 300lb-er for Paul. And up the top on we went two from four for Rob (more below).
On KEKOA, we had a good day.  A day that was within a whisker of a great day!
With the rest of the boys electing to spend the day on the island, Rob came solo and it wasn't long after the baits were in the water when Capt. Luke called a blue tube on the big bait and Rob got busy in the chair dispatching a solid 500lb-er in 10 minutes. While Ben leadered the fish, Dingo got some great angles on the Hat Cam video (video to come).
Next up came the bite on the stinger from a fish Capt. Luke put in the 900lb-er range. Unfortunately all we got back was the squeezed runner.
While we were all hoping that fish would come back and bite again, we did get bit again, from another big girl and Rob was quick to hook her and get himself to the chair as she peeled off line and we did the big chase down sea after her. Although we had the fish on the leader a few times, and she did some epic jumps next to the boat, after an hour's battle with Rob getting just as good as he was giving, we just couldn't get her back to the boat.
For the last fish, just as then boys had reset the baits again and were enjoying a moment to breathe, the scad went off again and Rob was hooked up to his last fish of the day, a 250lb-er which was released in good time as well.
Video footage:


Footage from the Go Pro Hatcam of the first fish and a half until we ran out of battery. Fully charged for today. We also have TowCam cockpit camera footage to come once we have a chance to edit it.
Also, another video from team Hardcore on Askari of a 450lb-er from their trip the week before when they saw fourteen, got twelve bites and caught four between 250 and 500 pounds.