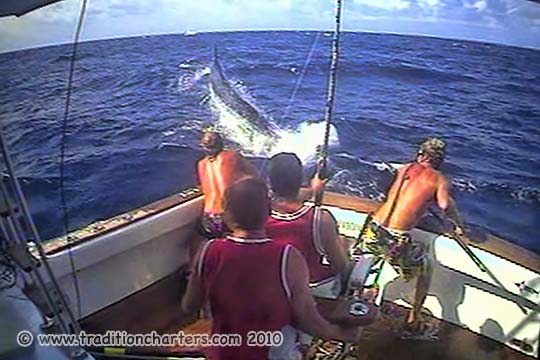 Steve on the leader of the first reported grander release on board Tradition in 2010.
With big fish being seen daily, it was just a matter of time before one found itself on the end of a hook. It seems like the fishing is starting to pick up with a bit more consistent action. Fishing from the bottom of Number 10 Ribbon up to the top always gives expectations of good fishing. It's the type of reef that produces fish again and again somewhere along its 15 mile of unbroken edge.  And this was the case for the boys on Tradition on Sunday with a fish that Capt. Tim put well over the grand mark for angler George.
George's biggest fish before this trip was a catfish, which he raised with a 30lb GT on Tradition on Saturday and then this one, his first marlin – what a great way to start! (Another pic at bottom.)
Nearby on KEKOA we raised five for three bites and released a smaller fish for Rob's brother Bill, his first marlin too.  Corky fought a 400lb-er for 15 minutes before the tailwraped fish got away close to the boat.
In Townsville a few big blacks are showing up out at Myrmidon Reef with Pirate releasing a 300lb-er and missing a smaller fish.  No reports from the south end off Cairns.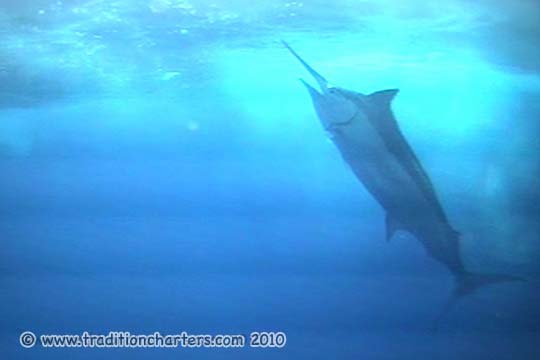 Towcam footage from just after the bite of Traditions fish.