You'll need to read this one right through – its good, all the way to the end. Being in phone reception is great!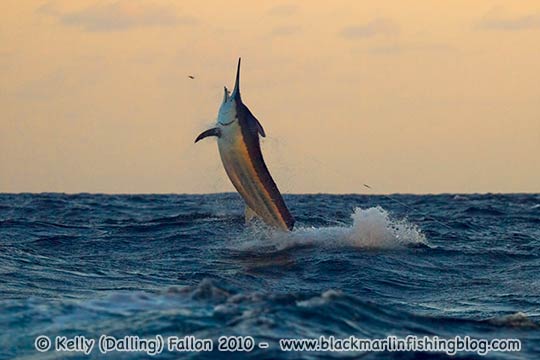 Sunset black marlin for the Hass on KEKOA on Opal Ridge Friday.
Like many of the fleet fishing the middle Ribbons, we made the trek down to the south yesterday after reports of a good bite at Linden Bank.  And roaring past us at 25knots, the big blue boat Dreamin' On was ON before we even got there!  Reports from Capt. Simon Carossi who is on board working the deck with Capt. Randy Hodgekiss and crew that they got some great footage of the 900lb-er – another big fish to add to their impressive Australian black marlin tally thus far.  They also released another smaller fish later in the day.
We also came across Capt. Chris Jolly and team on Amokura who were lamenting a quiet start to their trip with just the one smaller fish Thursday when they got piled on by another greedy fish – who ate two baits – that Wombat put at 800lbs.  I snapped a picture (below) from almost nearby as we were getting harassed by a smaller fish. They weren't alone, lamenting their luck earlier in the day as Capt. Jared Weir on Shaka did too eventually going 3-2-1. Fortunately, as John puts it, the one they got was around 800lb!
On board KEKOA, Scooter had been on strike for his first marlin for two days, and he had one chance in the chair early, fighting for 10 minutes before the hooks pulled while she was still down deep. But his disappointment didn't last long as he had another chance in the chair soon after, happily releasing this 300lb black (picture below).  Then the "Hass" was back on strike and looked like missing his chance when deckie Ben started to wind in the scad at the end of the day…and she came tight!  A feisty 750lb-er burning around on the surface with the new KEKOA in chase, giving us all a good workout.
Capt. Ashley Wallis on Kalira happily got the early mark, heading in at the end of their trip from the southern end of the Bank, with three fish for the day. Ashley reports they had a great last two days going 5 from 6 to 600lbs.  I also heard from Capt. Adam on Iona 2 who also released two smaller fish (and another great photo from Rhino below).  Capt. Adam also tells me that Trent on the blue Iona with Newcastle Port Stephens identity and Ningaloo owner Larry Curtis on board released another good fish at 850lb.  Tradition finished up their trip with Greg adding another two fish before heading in to Cooktown.  That makes 8 in 10 days to 800lbs!
Askari also came down the reef to the Ridge and after a quiet last few days turned the fortunes around with a 500lb-er for regular American angler David.  They also had a bite out of another big fish. Kim also sent me the links to the video from their fish from last week – the 850lber for Warren and a 900lb-er for Tom. Kim's putting together some awesome video packages and they are well worth the watch!
David Cox on board local Cairns boat REELAX have also fished Linden Bank for the last 3 days.  David told me that after a very quiet first two days they went 2 from 2 in a late bite on Friday with 400lb-er at 4:30pm, followed shortly after with a 600lb-er at 4:50pm.
We were also treated to some mothershipping hospitality on board Calypso and Laura J last night when Capt. Tim Dean, Capt. Laurie Wright and the gentlemen from Texas, DA Hughes and his best mate Zac ("Hollywood"), invited us over for a drink after dinner.  And we also got to catch up on the reports from their trip thus far.  Wednesday, Capt. Tim was on fire going four from four along the ridge. They added another yesterday and had another bite and finish up their trip today – hopefully on a big high!
Breaking news: Word has filtered down the reef that the Lizard Island boat Fascination with Capt. Craig 'Brutus' Newbold released one that legendary deckie Billy Fairbairn put over the mark yesterday. Congrats guys! I make that grander number 6 on the Great Barrier Reef thus far in 2010.