Okay – this is another good one to read all the way through….good fish all the way to the end!
Luke tells me that Eddie says that he would like to see more pictures on the blog (hi Eddie!).  Well how's this?  A few of mine from the several hundred combined that John Mondura and I took from on board KEKOA yesterday.  It certainly was a great day for photos. And by all accounts, a great day for giant black marlin too!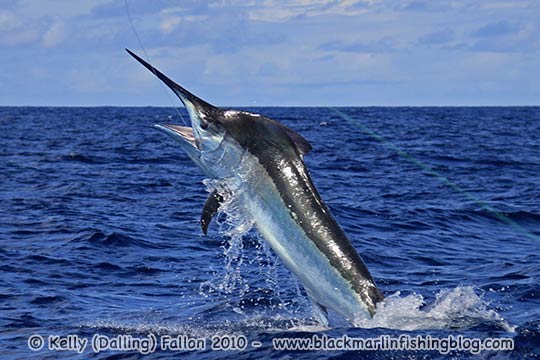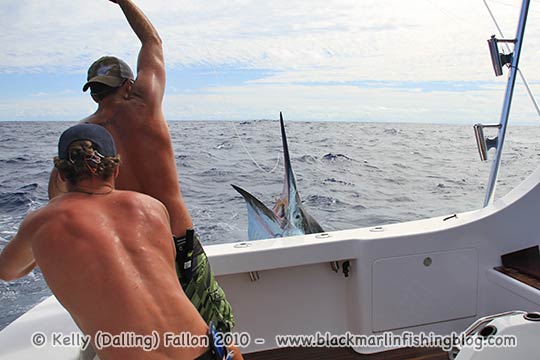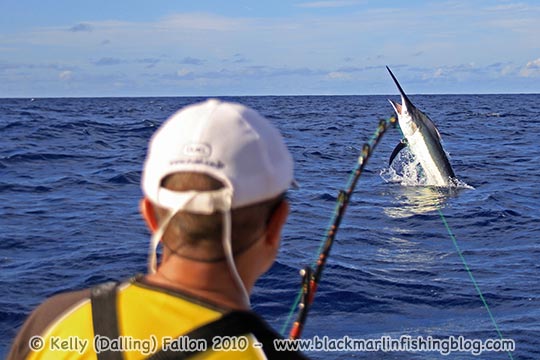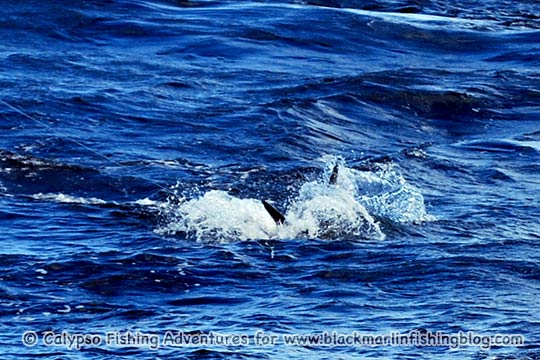 Also included above, a cockpit-cam shot from Capt. Tim Richardson on Tradition.  Capt. Tim started a new trip yesterday from Cooktown and headed straight down to the south where most of the action has been reported of late.  On the way he released another big fish (pictured) that he put well over the grand mark.  They also released another at 300lb making 2 from 5 for the day.
Has anyone wondered what happened to Square Bear this year?  Well she's here and she's green! (my photo doesn't do the green justice!)  After finishing up some refurbishments including a new paint job, Capt. Craig "Sparra" Denham started the season a couple of weeks ago just in time to host Jay & Candace Meyer and Billy Boyce on a combined trip with Capt. Hayden Bell on Release this past week.  Yesterday, they were fishing Linden Bank on a new trip with Sparra's partner in the boat Greg "Noodles" Sims on board as well as Tara on deck and guests Mark and Chris getting stuck into some good fish.  By just before 4pm they'd released a 450lb-er for Chris and an 800lb-er for Mark.  A little later on they added another that Sparra put at 1100lbs for Chris, then hooked up again releasing a 200lb-er for Mark after 6pm.  Greg says that it was a very special day on the water!
Lets talk light-er tackle fishing… John Mondura tells me that Dougie is the best angler on 50lb stand up that he's ever seen.  And it was awesome to see him in action yesterday.  Dougie is sponsored by Duel, who make an amazing gear system to activate 1:1 (a simple as reverse winding), which is perfect for this type of fishing. He was a machine putting in almost two hours on his first fish of the day, an 800lb-er (main picture) that piled on the skip bait while we were still finishing lunch.  Capt. Luke expertly maneuvered KEKOA to help Dougie raise the fish three times before Dingo could get her on the leader for some spectacular jumps (including one almost to climb into the cockpit – picture) before she was set free.  For much of the early fight she also had a smaller male fishing swimming with her.  The boys had just finished setting the baits and Dougie was enjoying a well deserved breather when a smaller fish piled on the skip bait again.  Dougie made short work of this one releasing it well inside of five minutes.  Then again it was a short wait before another big fish piled on.  We all got a good look at her as she followed the second bait in, almost to the transom door, before veering off..and taking off.  After a 20 minute fight and some more spectacular jumps with the double to the rod tip a couple of times, the 50lb line parted for no apparent reason and the fish that Capt. Luke put at very close to the 1000lb mark went on her merry way.
And light-er tackle fishing still a great result on board Calypso – a spectacular bite (picture above) for a quickly released fish that Capt. Tim Dean put at over 900lbs on 20lb line caught his long time friend and client, John Wendkos.  Capt. Tim tells me it was John's largest fish ever on 20lb and they've also sent through another awesome picture of the switch bite (above) as well.  And then later, they hooked up to and fought an even bigger fish for over an hour before the line parted!
More big fish.  Mike Dobbins' private boat Hattitude is back out again as of yesterday and got their on a real nice fish that they put at 900lbs and got some bites out of other good fish as well. Joe Joe with Capt. Tim Ryan also released a nice fish at 800lbs before heading back into Port Douglas to prepare for the tournament. Castille III with Capt. Dean Beech added another to their tally with several more bites.   And as we pulled the lines in we left Capt. Hayden Bell on the Release hooked up to a nice fish.  They came into the anchorage when we were already onto our second course of dinner and stayed up late to celebrate!
Oh, and fishing in the Port Douglas tournament starts tomorrow, not today. Oopsies!  And lastly, Kim tells me the higher res version of the helicopter footage (entry below) is up now and so if you watched the grainy version yesterday, give it another go. Awesome stuff!